If You Can Imagine It...We Can Build It!
Learn More About Chant's History
In 1959 a young British engineer Leonard James Chant, his wife and three sons immigrated to the United States. It was in the heydays of the United States space program and there was a shortage of engineers. Recruited by the ITE Corporation, Jim worked on special Government test programs and equipment.
In 1962 he was hired as the Chief Engineer at Boonshaft and Fuchs Co., a small but well-known Government testing equipment and machinery manufacturer. Of the many projects he worked on, the most well known was the first human centrifuge located at the Naval Warfare Center in Warminster, PA. John Glenn and the Mercury Astronauts trained for their upcoming space mission using this human centrifuge.
By 1970 the economic climate had changed and Jim left Boonshaft and Fuchs to start his own business. L. J. Chant Associates was started in the basement of Jim's home as a consulting business. He had no product, no sales force, and no money, just his good name, reputation and engineering expertise in servo hydraulics and testing machinery. Although there were many lean years, ultimately through hard work and perseverance, the consulting business led to customers wanting to know if he could supply them with control systems and hydraulic power units to go along with the engineering designs he was providing.
In 1976 the company moved to a rented garage, a technician was hired to help out and the name was changed to Chant Engineering Co. Inc. The company remained unchanged until 1986 when Philip Chant, Jim's fourth son joined the company as a full-time employee.
Phil had grown up helping out in the company when needed but was reluctant to stay working at a tiny consulting company that had no product or sales force. The company had to grow and in the end, steady growth came from a partnership of Phil's energy and Jim's experience.
Today Chant Engineering is a global, diversified engineering company that designs, manufactures, services and calibrates testing machines, systems, and related accessories for worldwide industrial and military customers.
Fueled by growth, the company now resides in a new 60,000 square foot "green design" energy efficient manufacturing facility. With 50+ employees, the success and the growth continues.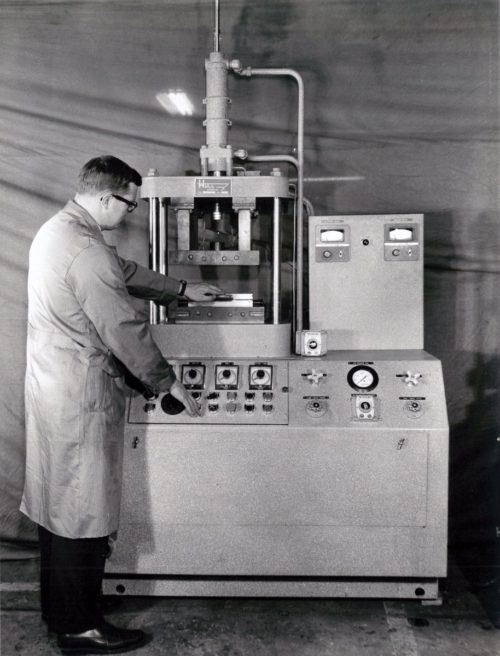 Chant Engineering's Mission is to be your trusted "go to" source for all testing machinery in the rigging and reeling industry.
Safety and customer satisfaction is always our first priority. Our main Goal is to build high quality, rugged, standard and custom testing machines for customers worldwide.
Serving Customers Worldwide
---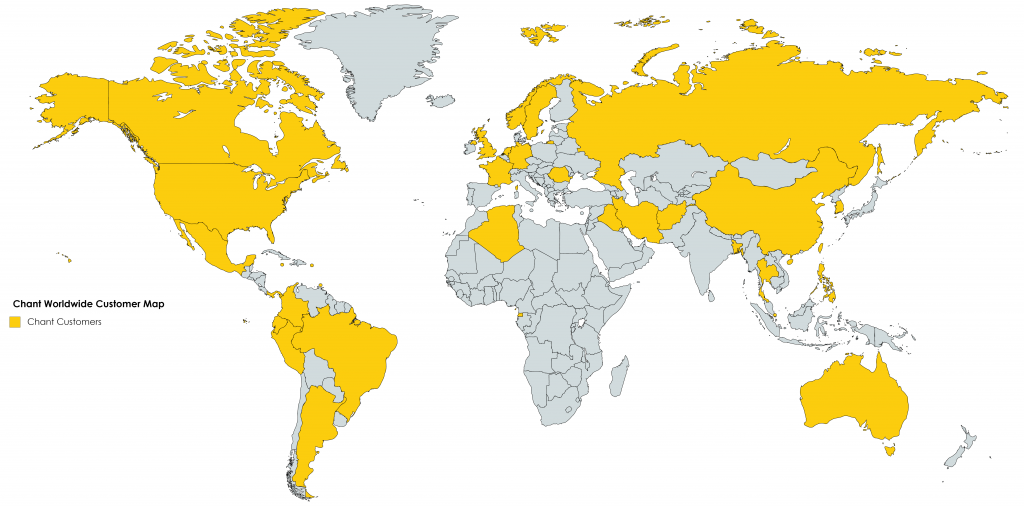 Corporate History Timeline
---
1959

In 1959, a young British engineer, Leonard James Chant, his wife and three sons immigrated to the United States.

1970

In 1970, L. James "Jim" Chant founded L.J. Chant Associates in his basement.

1976

The company moved to a new location in Horsham, PA and was renamed Chant Engineering Co. Inc.

1985

Philip Chant, Jim's 4th son, joins the company as a full-time employee.

1986

Chant moves to larger facility in Chalfont, PA.

1988

Company moves to New Britain, PA and builds new 10,000 sq. ft. building.

1996

Chant manufactures largest test machine - 5 Million Lb. Capacity.

1999

Chant Engineering expands its product line by acquiring Hull Industries, a manufacturer of equipment and systems for plastics processors using thermoset, composite and thermoplastic materials.

2000

L. James Chant steps down as president and Phil Chant steps in as Chant's new President. Chant builds a new larger facility in New Britain, PA.

2010

Chant manufactures its longest test bed (1500 Metric Ton / 3.3 Million Lbs. x 350 Ft. Long).

2012

Chant becomes the exclusive North American Distributor for TALURIT™ products and adds swagers, swaging dies, annealing and cutting machines, ferrules and flemish eye sleeves to its product offering.

2012

Chant builds new addition and doubles the size of building.

2013

Chant becomes the exclusive distributor for Friedrich Höppe GmbH thimble products.

2014

Chant Engineering receives its AS9100:2009 Rev. C, ISO9001:2008, and ISO/IEC 17025:2005 Certifications.

2014

Chant acquires Cumberland Equipment line of reeling machines.

2015

Chant becomes the exclusive North American Distributor for Dynamic Load Monitoring Systems (DLM) products and adds load links, load cells, load monitoring equipment, and shear pins to its product offering.

2015

Chant Receives PJLA Accreditation.

2017

Chant launches new corporate website and our founder, L. James "Jim" Chant, passes away on June 15, 2017.

2018

Chant adds a line of Hydrostatic Test Bunkers to serve customers in the Oil and Gas / Fracking industry to its product line.