Meet the Chant Engineering Team.
Since 1970, Chant Engineering has been a USA based, family-owned and operated manufacturing business located in New Britain, PA.
Chant Engineering has highly dedicated employees with many years of real-world, hands-on experience. Chant employees have the highest levels of education and technical skills. Many Chant Employees have been with the company for years. Chant Engineering provides continuous education and training for each of our employees to ensure we are at the forefront of our industry.
This commitment underscores our promise of complete customer satisfaction. Our in-house engineering disciplines include mechanical, electrical, hydraulic, structural, software design, F.E.A analysis, and 3-D modeling.
Chant has an experienced, full-time team of registered Professional Engineers (P.E.) on staff.
Our department contacts are as follows:
We look forward to serving you. Please call your Chant Representative for a quote or if you need service on your machine.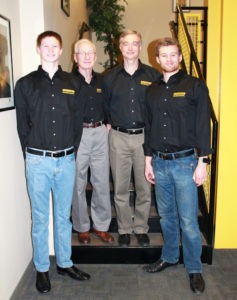 3 Generations of Chant Family