Chant Engineering launches 2017 Product Brochure
Chant Engineering Co. Inc. is a leading manufacturer of testing machinery, reeling machines, test stands and other related rigging shop accessories. Chant products are U.S.A. made at its headquarters located in New Britain, Pennsylvania. "We have updated our brochure to include a more comprehensive look at our overall product line, said Patrick Shire, Vice President of Sales and Marketing at Chant.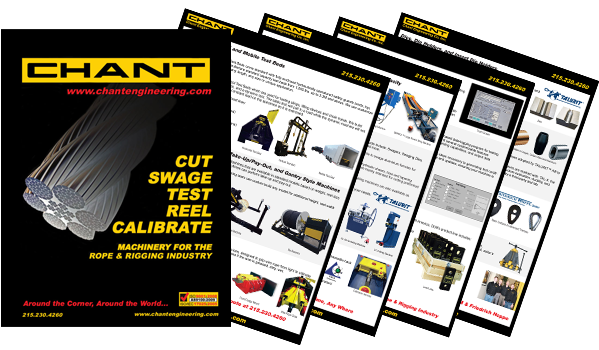 "We offer more than test beds. We also produce reeling machines, military test stands and have partnerships with leading global companies to distribute their products to U.S. customers. Our partners' products complement Chant's existing product line. If you look at our full product line, we are a one-stop shop for the wire rope and rigging industry. We can give customers a complete turnkey solution." remarked Phil Chant, President of Chant Engineering. "Our goal is to let customers know we are a full-service company that can help them with all of their rigging shop needs. We basically manufacture or distribute and service every type of machine used in a rigging shop and more!" continued Chant.
In addition to our service, Chant is an accredited calibration company and is capable of calibrating testing machines up to 3.3 million lbs. with load cells that have the capacity to calibrate to 1.5 million lbs. in tension and 3.3 million in compression. Chant offers service and calibration services 24 hours a day / 7 day a week worldwide.
Chant is the Authorized North American Distributor for these partner companies: TALURIT AB Sweden who manufactures swagers, swaging dies, annealing machines, cutting machines, ferrules, Flemish eye sleeves and more; Dynamic Load Monitoring (DLM) who manufactures load cells, load links, shear pins, and load monitoring equipment; and Friedrich Höppe GmbH who manufactures thimbles.
Click Here to view the Chant Brochure
For more information about Chant Engineering, please visit www.chantengineering.com.