High-Pressure Fully Enclosed Test Bunkers
Chant manufactures high-pressure hydrostatic test bunkers constructed with heavy-duty 1-inch steel plate. Each test bunker is a fully contained unit for operator safety.
Standard Features:
• Heavy-duty 1 inch steel plate
• Fully contained test bunker for operator safety
• Chant software for control and DAQ
• Touch screen control
• Precision pressure transducers
• Energy efficient LED lighting
• 15,000 psi (or higher)
• Door interlocks
• Heavy-duty hinges
• Heavy-duty deadbolts
• Emergency operator egress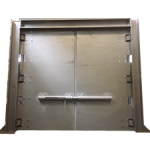 Optional Features:
• Additional frame sections
• Ventilation
• Additional pumping units
• Pressure transducer calibration available
• On-site installation assistance & start-up / training
Complete Hydrostatic Test Stand System
Chant Engineering has combined our vertical (Model 9727-A) and horizontal  (Model 9727-B) hydrostatic test stands into one complete, turnkey hydrostatic test stand system for production based testing.