Looking For A High-Speed Coiling Machine To Handle Your Reeling Needs?
Let Chant Build It For You.
Chant Engineering's High-Speed Coiling Machines are powered by a 1 hp, 110 volt motor with a chain drive. Variable speed, 0-60 rpm, motor activated by foot switch.
Available Options
Remove Coiling Head
Add Shaft for Smaller Reeling
Add Reverse Feature
Banding Unit/Coil Dispenser
Wire Guide
Counter
Cut Off Saw
Oversize Options: Width and/or Height Customization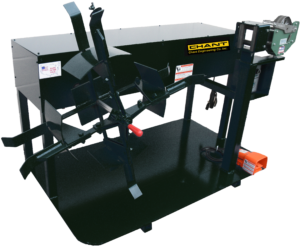 Chant High-Speed Coiling Machines come in a variety of standard sizes and capacities. Each machine can be custom made to order: any capacity, width, height or length is available.
Chant Engineering's testing equipment meets or exceeds all AWRF safe practices and guidelines.
We are ISO 9001:2008 Certified and ISO/IEC 17025:2005 Accredited. ISO 376 is available for international customers in the EU upon request.