Chant Engineering's SD2 Standard Duty Coiling Machine, is used for winding wire rope onto a reel.This well-built machine comes standard with a 2″ Over Drive Shaft, with bushings for: 2 1/2″, and 3″ reel holes.The SD2 Coiling Machine is very easy to operate:
A hydraulic jack is used to raise and lower the reel safely and conveniently
Activated and operated by foot pedal
Contact a Chant representative for operating specifications and available options at 215.230.4260!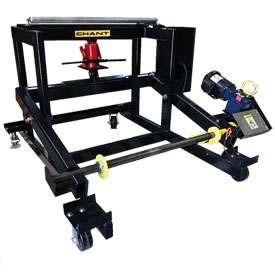 The Chant SD2 Coiling Machine comes in a variety of standard sizes and capacities. Each machine can be custom made to order: any capacity, width, height or length is available.
Chant Engineering's testing equipment meets or exceeds all AWRF safe practices and guidelines.
We are ISO 9001:2008 Certified and ISO/IEC 17025:2005 Accredited. ISO 376 is available for international customers in the EU upon request.