Reel Your Wire Rope with a Heavy-Duty Shaftless Take-Up and Pay-Out Reeling Machine
Mechanically/hydraulically Raise and Lower Reels to Coiling Systems.
Chant Engineering machines are constructed of heavy duty steel and offered in standard capacities from 5,000- 50,000 lb. (2.3 – 27.2 MT), with standard reel sizes ranging up to 96 in. (2.4 m) diameter.
This machine is hydraulically operated. It consists of a Shaftless Take-Up Machine, hydraulic power unit (HPU) with arm controls on each side of the machine. The operator has the ability to adjust the Pivoting Assembly for various spool sizes.
Load force to be specified by the customer.
The HPU includes the control panel, hydraulic motor, a pump with heat exchanger, and input power wiring.
To download the Take-Up & Pay-Out Reeling Machine .pdf, CLICK HERE.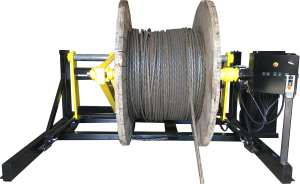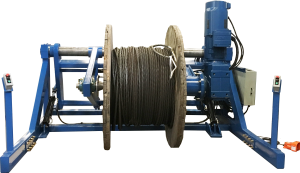 Chant offers a variety of standard floor mounted Take-Up/Pay-Out Reeling Machines. We can also customize any machine you can dream up.
Watch video of a Chant Engineering 4,000 lb. Take-Up/Pay-Out Machine in action:
The Chant Shaftless Take-up / Pay-Out Machine comes in a variety of standard sizes and capacities. Each machine can be custom made to order: any capacity, width, height or length is available.
Chant Engineering's testing equipment meets or exceeds all AWRF safe practices and guidelines.
We are ISO 9001:2008 Certified and ISO/IEC 17025:2005 Accredited. ISO 376 is available for international customers in the EU upon request.