Horizontal and Vertical Test Beds
Chant Manufactures High Quality, Heavy-Duty Proof Test Beds Proven to be Tough
Chant Engineering, a world leader in testing equipment for the wire rope and rigging industry.  We specialize in manufacturing test beds or proof test machines for testing of steel wire ropes, synthetic ropes, chains, slings, shackles and more. Chant has a complete line of horizontal test beds and vertical test machines designed specifically for the lifting and rigging industry. Chant proof test machines are rugged and proven to stand up to the test. Test beds are designed to take your products to their maximum limit for both non-destructive and destructive testing. Chant Testing machines will proof test your products for load, torque and breaking points in your own test environment. Chant fully understands your product testing needs and has a full line of standard test beds. We can also engineer and manufacture any proof test machine you can dream through complete customization.
Did you know that Chant now offers leasing options for its test beds? You can now lease a proof test machine for as low as $2,000/month? We have 2, 3, 4, and 5 year lease options available. Start a new revenue stream for your rigging shop today! Give us a call for a quote and leasing terms. How can you afford not to?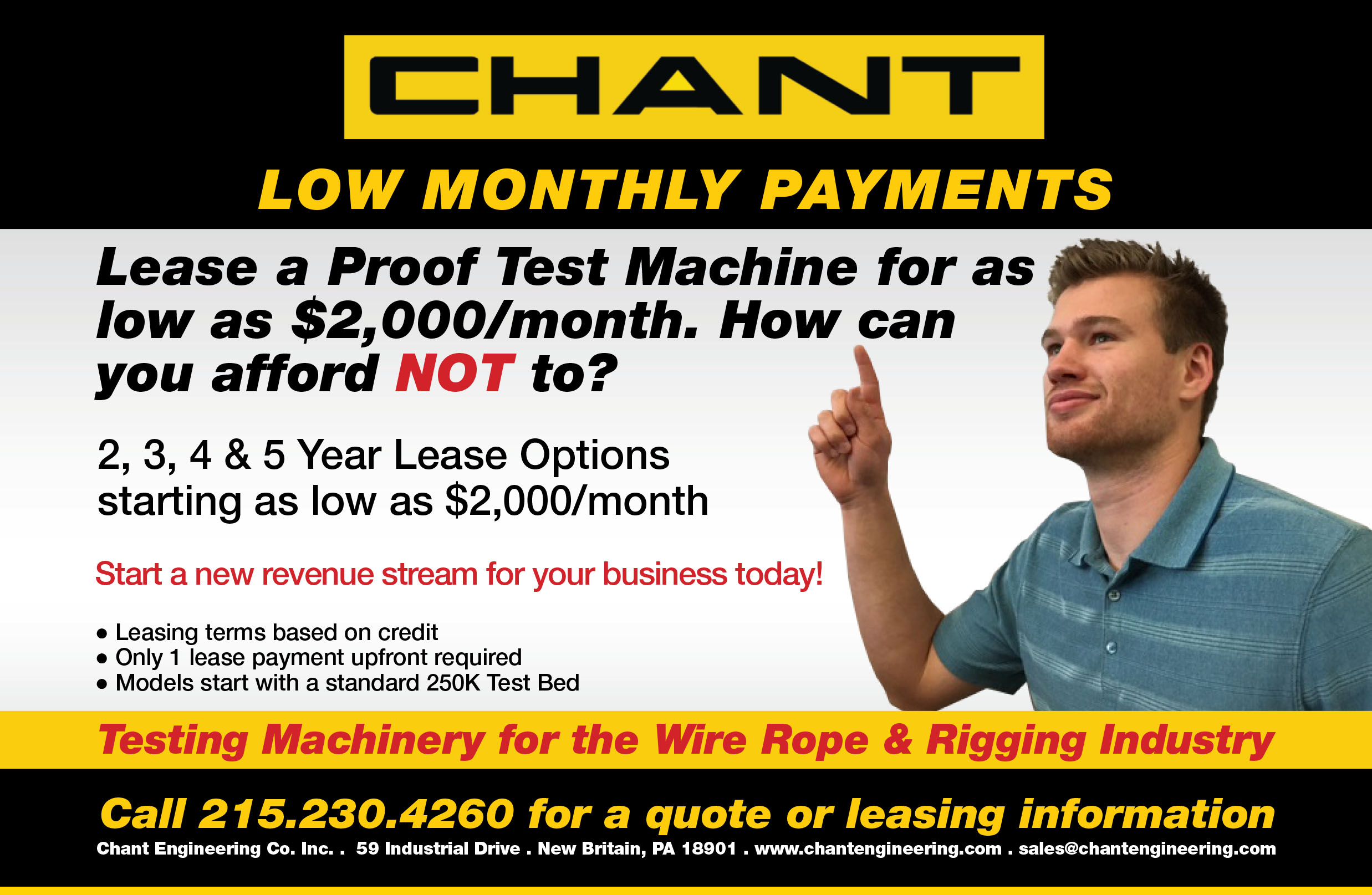 Horizontal Test Beds
We offer a wide range of standard sizes and capacities on our Horizontal Test Beds. We can also design-build a custom horizontal test bed to your specifications.
Single Beam/Single Range (5K-100K)
Small Capacity (10K-100K)
Medium Capacity (225K-500K)
Large Capacity (600K-900K)
Mega Capacity (1M-3.3M)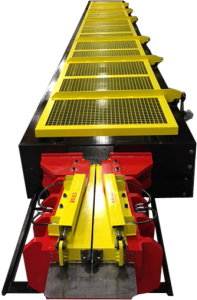 Mobile Test Beds
All Chant Engineering Mobile Test Beds are designed for on the job site testing. By bringing the machine to your customer's site, you eliminate shipping costs, downtime and employee expense.
This is a value added service for your customers.
Pre-Stretch Test Beds
Chant Engineering Pre-Stretch Beds utilize two hydraulically controlled Chant Wire Rope Grips. One grip is fixed (does not move). The other grip is mounted on the framework, which is then moved by hydraulic cylinders.
Vertical Test Beds
Chant manufacturers Vertical Test Beds in a variety of sizes and capabilities to test slings, lifting devices and chain hoists.
Small Capacity (5K-40K)
Medium Capacity (50K-100K)
Large Capacity (100K+)
Vertical Testing Towers
Custom Test Beds
Need a custom made test bed? We have the solution for you! Our company slogan is: "If You Can Imagine It…We Can Build It!"
Chant Engineering has extensive experience designing and manufacturing Custom Test Beds. One of the strengths that separates Chant Engineering from our competitors, is our extensive in-house engineering capabilities.
Break Test Machines
Our Break Test machines are used by wire rope manufacturers to break test wire rope specimens during the manufacturing process. For quality control and verification, it is necessary for wire rope manufacturers to break test samples of their products to ensure the breaking force is within their published specifications.
The wire rope sample can be as short as a few inches.
Test Bed Upgrades and Options
Chant can customize any machine. We offer additional upgrades, options and customization. Chant Engineering can provide design and engineering solutions for your specific testing environment based on your project needs and specifications.
Upgrades
Chant Engineering can upgrade your existing old Test Beds to meet today's ASTM-E4 accuracy testing standards. Typically, old machines are reading hydraulic pressure and converting this to pounds of force.
This method cannot take into account the internal friction of the hydraulic cylinder seals and thus can be extremely inaccurate.If your machine is in good working order, Chant Engineering can provide a complete load cell, digital indicator, and software package to bring your machine up to date.
Options
You can add optional items to your test bed project, a few of those items are:
Cycling Control
Elongation Management
Low Load Cylinder