Fast & Cost Effective Way to Break Test Your Product
Chant Engineering Break Test Machines are used by wire rope manufacturers to break test wire rope specimens during the manufacturing process.
For quality control and verification, it is necessary for wire rope manufacturers to break test samples of their products to ensure the breaking force is within their published specifications. Typically a manufacturer wants to break a relatively short length of product in the least amount of time possible.
The Chant Break Test Machine is able to accomplish this with a minimal amount of waste product. The wire rope sample can be as short as a few inches. The specimen is held in grips and pulled to failure.
Using the touch screen control, the operator selects the loading force or break testing force. The machine will automatically go to the set load, or if designated, will go to full break.
There is complete data acquisition, with each test automatically stored in the computer. This allows the operator to review the results at any time, and a certificate can be printed. Elongation is also recorded.
Horizontal Break Test Machines
In addition to our Vertical Break Test Machines, we also manufacture Horizontal Break Test machines.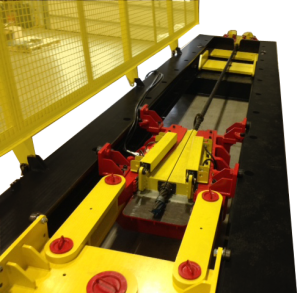 Chant Break Test Machines come in a variety of standard sizes and capacities. Each machine can be custom made to order: any capacity, width, height or length is available.
Chant Engineering's testing equipment meets or exceeds all AWRF safe practices and guidelines.
We are ISO 9001:2008 Certified and ISO/IEC 17025:2005 Accredited. ISO 376 is available for international customers in the EU upon request.