Horizontal Test Beds With Standard Hydraulic Operator Safety Guards
All Chant Engineering Test Beds come standard with fully enclosed test bed frames (ends, top, bottom) for operator safety.
Each machine comes with a standard hydraulically operated safety guard. We make standard capacity test beds, as well as custom machines. If you don't see what you need, please don't hesitate to contact us, chances are we have already made it.
The base bed lengths for models 75K to 1600K is 40 feet. Additional frame sections are bolted together to increase the test bed usable length.
The base length on the custom 3300K (1500MT) model varies on application.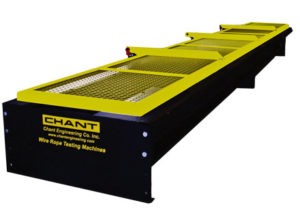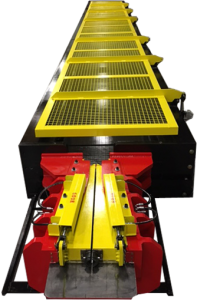 Visit our YouTube Channel to see Chant Engineering's Horizontal Test Beds performing break tests on various materials such as: wire rope, synthetic rope, shackles, slings, and more.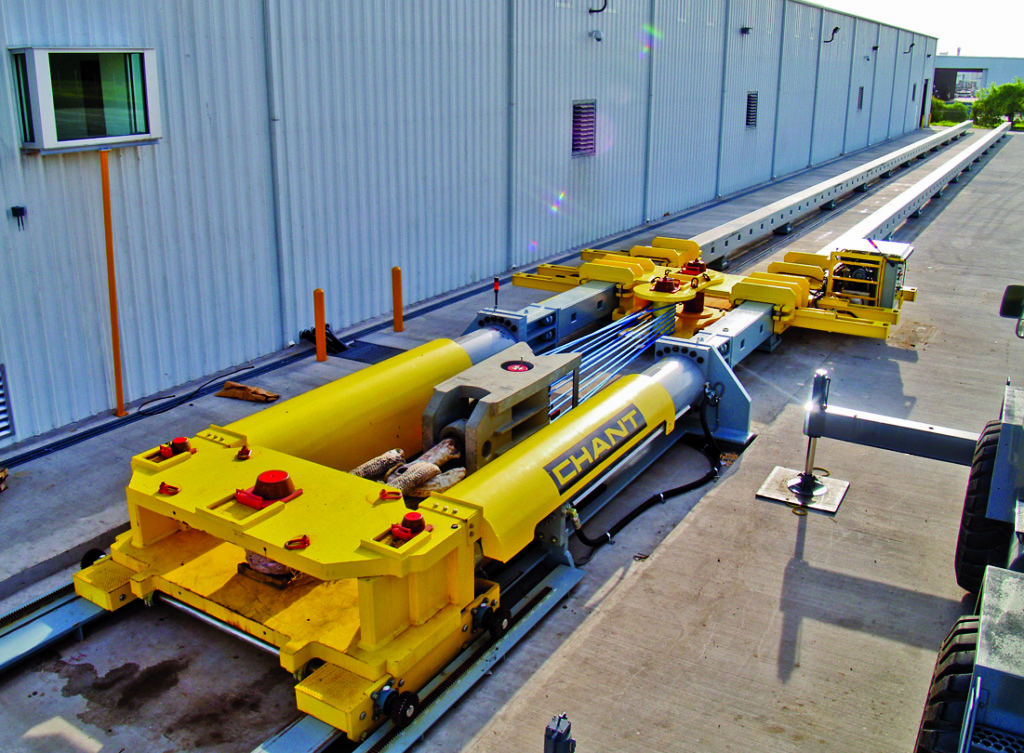 1500 Metric Ton Overview
Chant Engineering 1500 metric ton (3.3 million lbs) testing machine is a three in one machine. Its capabilities include traditional load, proof cycle and break testing as well as spreader bar testing and a slack removal system for long stretch, test specimens. The push cylinders on the machine are used in pull for proof testing spreader bars attached to the dead man. In addition, we have incorporated a test "pit" to allow the proper centerline positioning for the purpose of load testing large, often cumbersome, offshore crane blocks.
The movable head is hydraulically controlled so that it can walk down the frame under load to remove slack from the specimen prior to load testing.
In the September-October 2010 issue, Wire Rope Exchange magazine declared this machine to be, "…the most technically advanced proof tester ever built."
CLICK HERE for more information on the 3300K model and to read their entire article featured in Wire Rope Exchange Magazine.
Chant Horizontal Test Beds come in a variety of standard sizes and capacities. Each machine can be custom made to order: any capacity, width, height or length is available.
Chant Engineering's testing equipment meets or exceeds all AWRF safe practices and guidelines.
We are ISO 9001:2008 Certified and ISO/IEC 17025:2005 Accredited. ISO 376 is available for international customers in the EU upon request.