Did you know Chant Engineering offers Upgrades and Refurbishments for your existing machines?
Test Bed Upgrades
We Can Fix, Upgrade or Retrofit Any Machinery to Perform the Task-At-Hand.
Sometimes machines need a face-lift, a complete overhaul or some additional functionality. We can help you upgrade your old test beds to meet today's ASTM-E4 accuracy testing standards. Typically, old machines are reading hydraulic pressure and converting this to pounds of force. We can also add new functionality for a fraction of the cost it would be to build a brand new machine.
Reading hydraulic pressure cannot take into account the internal friction of the hydraulic cylinder seals and thus can be extremely inaccurate. If your machine is in good working order, Chant Engineering can provide a complete load cell, digital indicator, and software package to bring your machine up to date.
We can upgrade your whole machine or just supply you with new components that you can install yourself. Replacement hydraulic systems, cylinders, load cells and digital meters, and software are all available.
Chant Engineering will also take your old machine as a trade-in, thus reducing your out of pocket expense. We offer long-term calibration programs that include free or low cost Prooftest machine upgrades.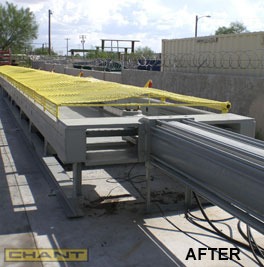 Laptop
Interested in upgrading an existing or older machine? Try Chant's state-of-the-art DataTEST™ Software package which includes a Toughbook laptop and digital display meter enclosure. For more information, CLICK HERE.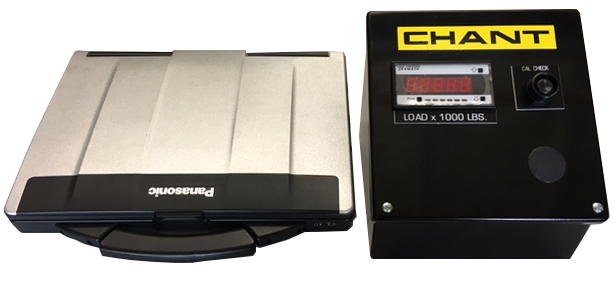 Test Bed Options
Chant Engineering always strives to provide the best, state-of-the-art testing equipment possible. As such we offer options to make your testing easier, more accurate and more complete. Our three most popular options are listed here.
We can also manufacture any custom option that you need for your specific testing machine operation.
Cycling Control
Chant Engineering makes fully automatic Prooftest machines that will cycle test a specimen. After loading in the test specimen, the operator can select the maximum and the minimum loading forces and the number of test cycles.
The machine will automatically run the test until the cycles are complete. The operator also has options to select loading cycles and then go to a break test.  All Chant Engineering Automatic Prooftest Machines have built in safeties so that if during a long-term test, the specimen were to break, the machine will automatically shutdown. Complete data acquisition is ongoing for the duration of the test.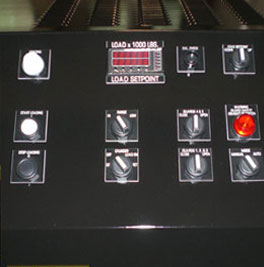 Elongation Measurement
Chant Engineering manufactures elongation measurement systems for our testing machines. These systems are used to measure the stretch of the specimens during a test. Mounted on the machine behind steel plates for protection, the Chant Elongation Measurement System uses a precision extensometer to measure the position of the hydraulic cylinder rod.
In use the operator will load in the test specimen and then take it up to a reference load to remove any sag in the specimen. Once the test is begun the computer displays two graphs: One load vs time and one load vs elongation. The exact position is measured from the start point of the test to the test completion. All elongation testing information is displayed, stored and searchable.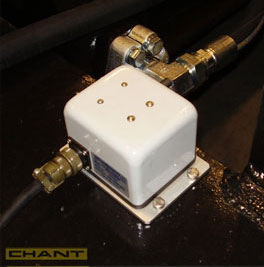 Low Load Cylinder and Load Cell Assembly
Low Load Cylinder and Load Cell Assembly
Chant Engineering pioneered the low load hydraulic cylinder and load cell assembly for greater testing control and accuracy at low loads. On hydraulic systems that are designed for the maximum pulling force of a machine, it is always difficult to control the large main pulling cylinder down at the very low loads. Also, below 10% of the electronic load cell range, the accuracy and repeatability are difficult to achieve. The solution to this is the Chant Engineering low load cylinder load cell assembly. Mounted alongside the main cylinder, the low load assembly allows the operator to test specimens at the low ranges, faster and more accurately. We recommend this option for every Chant Prooftest Machine.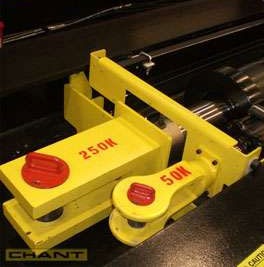 Additional Frame Sections
Additional Frame Sections
Additional frame sections are optional and are available. We can make your machine any length necessary as long as your space will allow for the extra test bed length.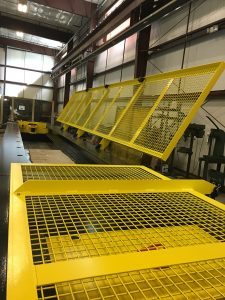 On-Site Installation Assistance, Start-Up and Training
On-Site Installation Assistance, Start-Up and Training
We offer optional on-site installation assistance, startup service and employee training to Chant customers. See our Services page on the Chant website for more information and a complete list of services available.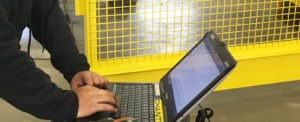 On-Site Calibration to ASTM-E4 (ISO 17025)
On-Site Calibration to ASTM-E4 (ISO 17025)
Calibration services are optional. Chant Engineering is a nationally recognized ISO 17025 accredited calibration firm with precision calibration equipment traceable back to the National Institute of Standards and Technology (NIST). Our equipment is calibrated to ASTM-E74, which allows us to calibrate your equipment to ASTM-E4, the equivalent to ISO-7500. We can calibrate load cells from 1,000 lbs. up to 3.3 million lbs. in compression, and 40 lbs. up to 1.5 million lbs. in tension. Visit our Calibration Services page on our website for more information.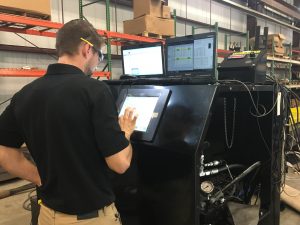 Wire Rope Grips
Chant Wire Rope Grips can be added as an option to your test bed. Grips are available in a variety of styles and are heavy-duty, precision machined gripping devices designed to last. For more information about grip styles, visit our Wire Rope Grip page on the Chant website.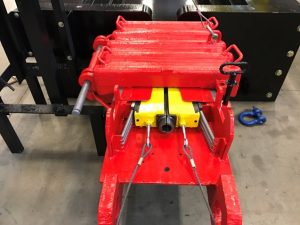 Capstans
Capstans are a great option for customers who use synthetic rope that has no terminations. Capstans are available in a variety of types and sizes and can also be customer built to specific requirements.
Chant Engineering's testing equipment meets or exceeds all AWRF safe practices and guidelines.
We are ISO 9001:2008 Certified and ISO/IEC 17025:2005 Accredited. ISO 376 is available for international customers in the EU upon request.