Current Total Raised: $1,725
Chant Engineering Co. Inc. a local Bucks County manufacturer based in New Britain, Pennsylvania is raising funds to help Hurricane Harvey and Irma victims in the wire rope and rigging industry.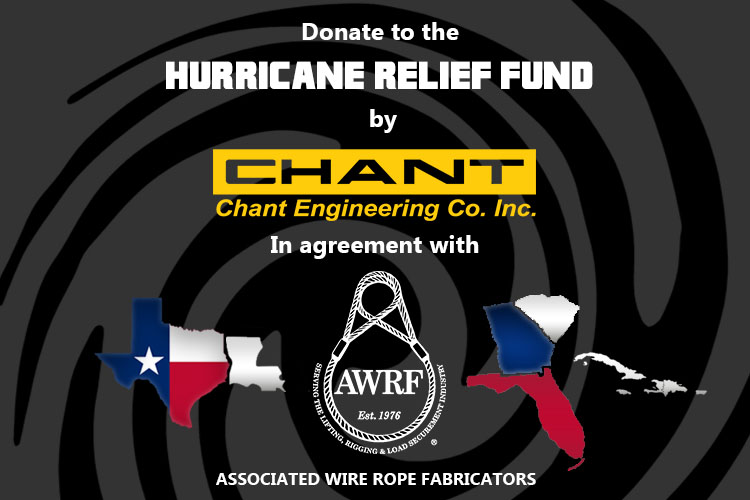 "Many of our customers are also our friends. We want to try and help them, even if it's from afar. A lot of our customers reside in the State of Texas and the Gulf Coast area, Florida, Georgia and South Carolina. And now the Caribbean (Puerto Rico) was hit by several hurricanes with Maria delivering the final blow.
We want to try and help them get their lives back. Many of our customers have lost everything.  Customers in this region are in the oil and gas, rigging and wire rope industry. The wire rope industry being down also affects the construction, aerospace, military, industrial markets, entertainment, and oil and gas industries.
"Chant has partnered with Associated Wire Rope Fabricators (AWRF) organization and they are helping us identify victims in our industry that have dire needs or are in need of financial assistance. Funds raised will go to, pay bills, buy groceries, clothes, basic essentials or whatever they need," said Phil Chant, President of Chant Engineering. "While many businesses are insured and will recover and rebuild, their employees are out of work, may have lost their houses, cars, or they may have escaped this horrible tragedy with only the clothes on their back. As the world throws us a curveball, we have to stand together and support one another," continued Chant.
We are reaching out to everyone in the State of Pennsylvania and our local community to join us in the effort and help raise money for Texas. Like Chant, many other local businesses in Pennsylvania and other states will be adversely and financially affected by lost work. Our goal is to try and help who we can to get them back up and running as quickly as possible. This starts with helping individuals reclaim their lives and get back to a sense of normalcy and it starts with the employees. 100% of the funds raised will be distributed directly to the families in need as identified by AWRF.
Donations are being accepted for the Chant/AWRF Hurricane Harvey Relief Fund at: https://www.gofundme.com/ChantforHurricaneRelief