5 Decades of Innovation and Ingenuity
Chant's Corporate History
In 1959 a young British engineer, Leonard James Chant, his wife and three sons immigrated to the United States. It was in the heydays of the United States space program and there was a shortage of engineers. Recruited by the ITE Corporation, Jim worked on special Government test programs and equipment.
From 1970 to 2023, Chant Proudly Celebrates Over 53 Years of Excellence
Chant's Story & Corporate History
In 1962 he was hired as the Chief Engineer at Boonshaft and Fuchs Co., a small but well-known Government testing equipment and machinery manufacturer. Of the many projects he worked on, the most well known was the first human centrifuge located at the Naval Warfare Center in Warminster, PA. John Glenn and the Mercury Astronauts trained for their upcoming space mission using this human centrifuge.
By 1970 the economic climate had changed and Jim left Boonshaft and Fuchs to start his own business. L. J. Chant Associates was started in the basement of Jim's home as a consulting business. He had no product, no sales force, and no money, just his good name, reputation and engineering expertise in servo hydraulics and testing machinery. Although there were many lean years, ultimately through hard work and perseverance, the consulting business led to customers wanting to know if he could supply them with control systems and hydraulic power units to go along with the engineering designs he was providing.
In 1976 the company moved to a rented garage, a technician was hired to help out and the name was changed to Chant Engineering Co. Inc. The company remained unchanged until 1986 when Philip Chant, Jim's fourth son joined the company as a full-time employee.
Phil had grown up helping out in the company when needed but was reluctant to stay working at a tiny consulting company that had no product or sales force. The company had to grow and in the end, steady growth came from a partnership of Phil's energy and Jim's experience.
Today Chant Engineering is a global, diversified engineering company that designs, manufactures, services and calibrates testing machines, systems, and related accessories for worldwide industrial and military customers.
Fueled by growth, the company now resides in a new 60,000 square foot "green design" energy efficient manufacturing facility. With 50+ employees, the success and the growth continues.
Serving Customers Worldwide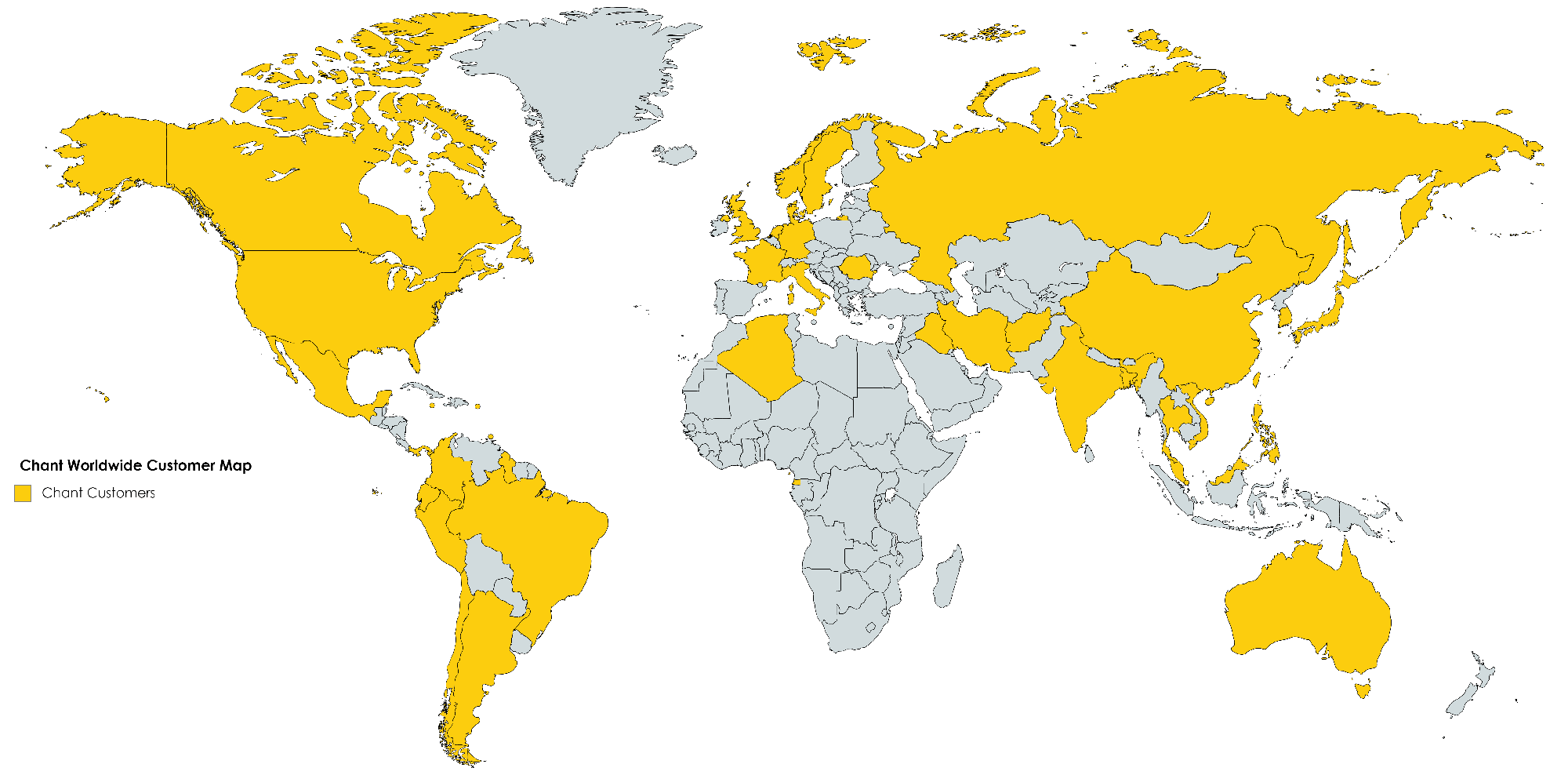 Chant Engineering is a global organization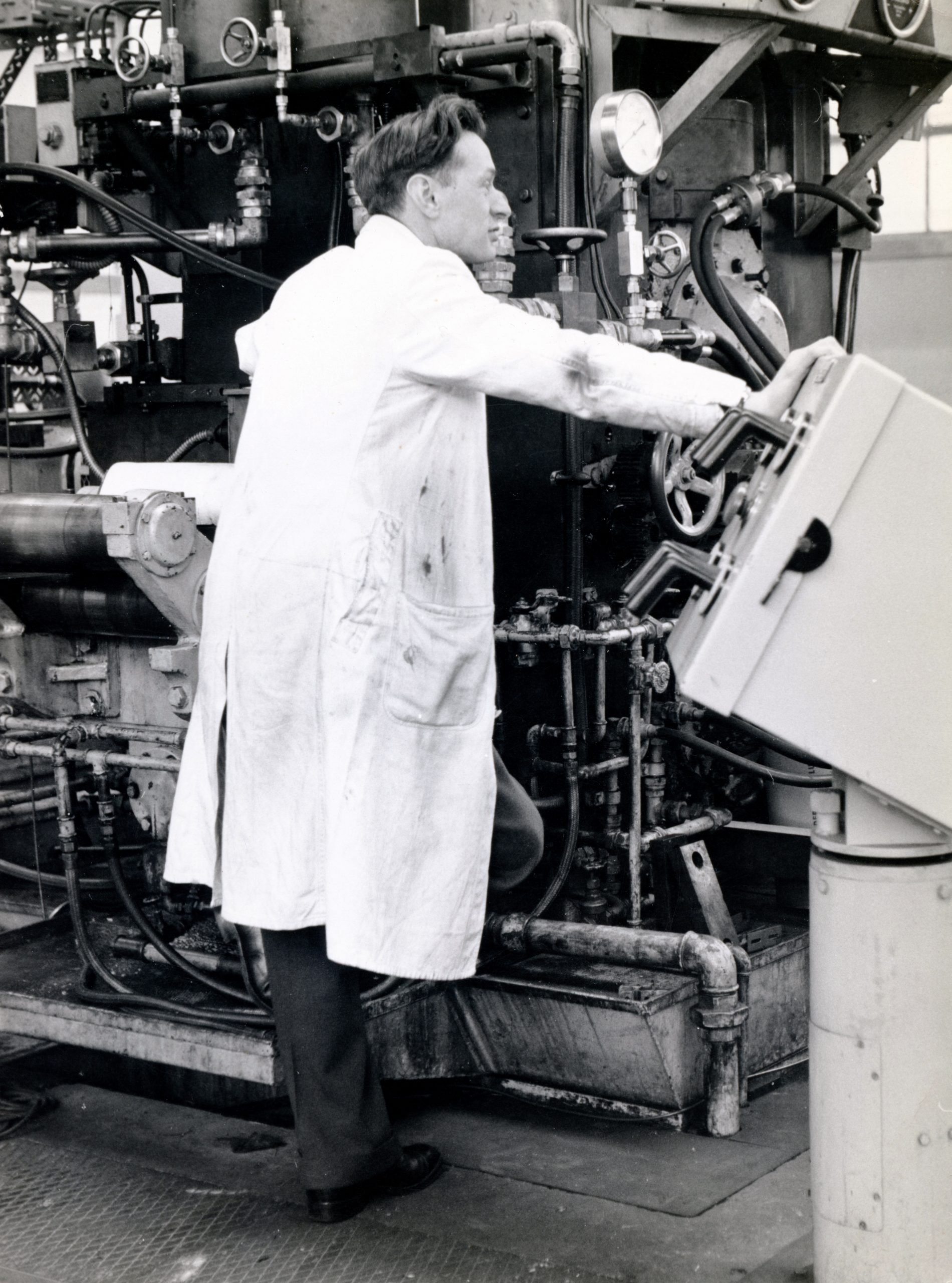 Chant Engineering's Mission is to be your trusted "go to" source for all testing machinery.
Safety and customer satisfaction is always our first priority. Our main Goal is to build high quality, rugged, standard and custom testing machines for customers worldwide.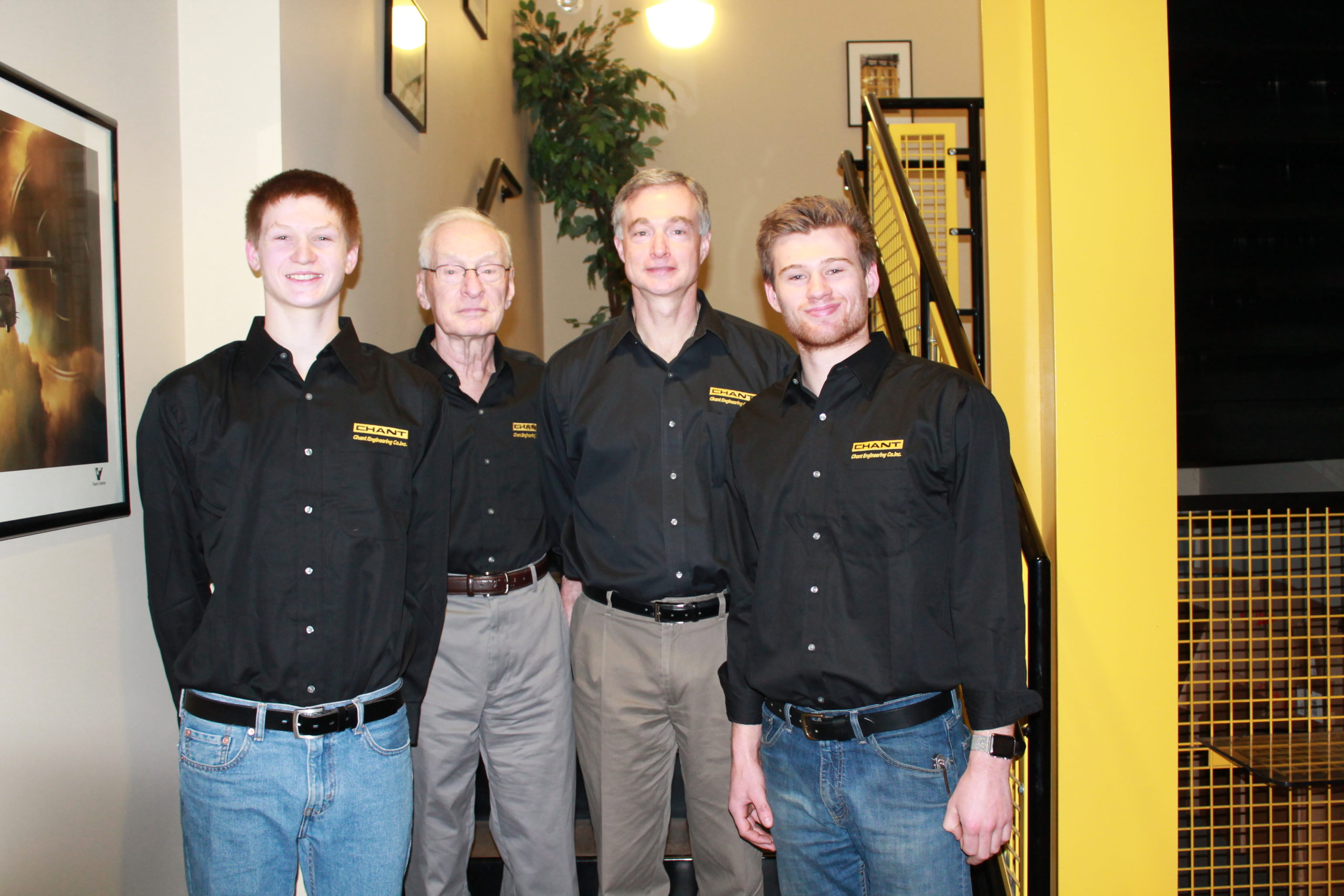 3 Generations of Chant family members are pictured from left to right: Andrew, Jim, Phil and Mason Chant.
L. James "Jim" Chant, our Founder, passed away on June 15th, 2017. Jim Chant is also pictured above.

Chant is accredited and certified to the following industry standards:
ISO 9001:2015

AS9100D

ISO/IEC 17025 
"The Boeing Co., Rotorcraft Division, to
supply pulley blocks for the V22 Aircraft as part of the cargo handling system. Their
deliveries to date have been ahead of schedule and at 100% quality per the Boeing
Quality rating system. It is a pleasure to work with Chant and Boeing looks forward
to continuing this relationship as it looks for more opportunities for Chant within
their core competency."
"We've been introduced to the DLM line of products in recent years and we have been very happy with both their results and performance.
As always, the level of expertise and service we receive from Chant is exceptional…….."
"Chant Engineering Co. Inc. did an amazing job supplying 2 custom reeling machines for SEPTA. Our Power Engineering Department made plans to replace the existing reel machine equipment for ease of pulling and retrieving copper wire during railroad projects….
Chant Engineering Co. Inc. is a company to consider for any machinery needs. As a customer, the service provided was professional and effective."
"We here at KRC are extremely pleased with the test stand that Chant engineered, built and delivered to us. It was a pleasure doing business with a top-notch firm like Chant Engineering, and we look forward to future business together.
…the first of its
kind, has uncovered power steering system secrets reminiscent of aerodynamic revelations found in a wind tunnel.
A sophisticated one-off machine, it reveals that as engine speed increases in 1,000 rpm increments one power steering pump can consume twice the power of another."