Are you having issues with YOur machine?
Connect to a Chant Technician and let us troubleshoot and diagnose your machine. Call 215.230.4260. 
Schedule Technical Support Today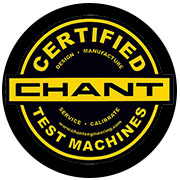 Need to Train Your Staff to Use a New or Existing Machine?

Let a Chant Training Representative help your staff get quickly up-to-speed.
Chant Engineering offers both on-site and remote troubleshooting service for your testing machinery.
Sometimes machines go down and you need help fast. Chant offers several solutions to help you get your machinery  back up and running  to minimize your production downtime.  Call us to schedule a Chant repair technician to come out to your location or remotely, via phone, email or via a WebEx meeting to see how we can get your machine back on track.
Our technical staff can quickly diagnose your test machine and get it back up and running in no time.
Contact Chant to book a technician to come out to your job site. We also have the ability to perform some remote training to save on travel costs for some situations.