Does Your Machine Need Service or Repairs?
Contact our Service Team for support by calling 215.230.4260 

Chant Offers 1, 3 & 5 Year Proactive Maintenance Plans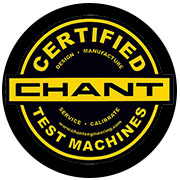 Chant's goal is to ensure your satisfaction and offer the highest levels of professional service. We offer long-term 5-year calibration and service plans to help you better control reduce your overall service costs. It's an insurance policy every business needs.
Service & Repairs

We Offer On-Site and Remote Service Options
Chant stands behind its products. We fully support our machinery and systems and have invested in providing our customers with one of the largest service teams in our industry. Chant can service our entire product line of machinery and many other branded OEM testing machines in the rigging industry. Our service technicians are highly trained, knowledgeable and possess the necessary skills to get your equipment fixed right the first time. We offer both on-site and remote service options which we provide to Chant customers worldwide.
In addition to Service, Chant offers on-site troubleshooting and installation, product training, remote service, and Proactive Maintenance Plans (PMP). Chant also offers upgrades and refurbishments for your existing testing machinery.

Chant Offers Worldwide Service
Chant technicians travel the globe to provide service, machine installation, calibration service, start-up assistance, product training to existing and new employees, and on-site troubleshooting services. Chant also has a complete staff of mechanical, hydraulic, electrical and software engineers available as required to help solve your machinery issues.
Having technical issues or need service or a machine repair? Contact Chant Engineering at 215.230.4260 or service@chantengineering.com to schedule an appointment today.
With Proactive Maintenance, You'll Have Less Downtime.
Put a Chant Proactive Maintenance Plan in Place to Keep Your Machines Running Smoothly Year-Round.
What better way to protect your business, than to make sure your machinery is in tip-top shape? Chant Engineering offers a Proactive Maintenance Plan (PMP) to help you keep your machine correctly calibrated, running seamlessly and in-check all year long. Performing proactive maintenance on a routine schedule can not only help your machine continue to run more smoothly, but it can also help extend the life of your machine(s).
Top performing organizations who traditionally have PMP's in place see less reactive maintenance costs.
The benefit of having a PMP is to prevent machine production downtime. Critical equipment failures almost always happen at the wrong or worst time and can completely disrupt service and/or dramatically reduce your overall production. A PMP can help an organization increase machine reliability, reduce unplanned outages, and limit overpaying for associated emergency maintenance costs.
The importance of proactive maintenance is to:
Provide preventative machine maintenance to avoid problems before they become failures
Help quickly identify the initial cause for a machine failure
Collect and analyze data
Track ongoing issues or trends
Extend the life of your machinery
Avoid production downtime and expensive emergency repair calls
Give us a call at 215.230.4260 for more information about Chant's Proactive Maintenance Plans and find the right solution for your organization.