Contact our Calibration Team for Support
Connect to a Chant Calibration Technician for Remote Support by calling 215.230.4260 
Learn More About Remote Support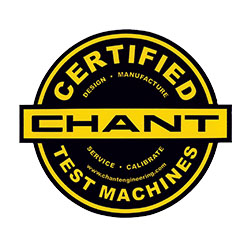 Need Calibration Service?

We Offer On-Site Calibration to Our Customers
It is critical for your machines to be correctly calibrated.  Be sure to select a calibration expert with the proper credentials for this service. Machine calibration is the single most important service your business uses. It keeps your machinery running smoothly and more importantly helps prevent miscalculations to avoid on the job injuries or fatal accidents. Safety should always be your 1st priority. 
Chant Engineering offers on-site calibration services for testing equipment and proof test machinery. Chant Engineering is a nationally recognized ISO/IEC 17025:2017 Accredited calibration accredited company with precision calibration equipment traceable back to the National Institute of Standards and Technology (NIST). Our equipment is calibrated to ASTM-E74, which allows us to calibrate your equipment to ASTM-E4, the equivalent to ISO-7500. We can calibrate load cells from 1,000 lbs. up to 3.3 million lbs. in compression, and 40 lbs. up to 1.5 million lbs. in tension.
Chant Engineering has propriety data-capturing software used in the calibration process that helps us to provide the highest levels of accuracy for your testing equipment. Chant's dedicated team of engineers, technicians, and service personnel provides worldwide calibration of proof test machines. We offer yearly calibration, multiple machine/location discounts, as well as multi-year comprehensive calibration/maintenance contracts.
All machines, including other machines made by other OEMs, can be outfitted with our proprietary Chant DataTEST™ software to ensure your testing software is on the cutting edge. Chant DataTEST™ features a sophisticated data acquisition platform that is easy-to-use for creating, printing and storing test certificates.
Chant offers 1, 3 and 5-year calibration contracts which can cover multiple machines and location discounts. Our 5-year contract includes a comprehensive calibration contract to keep your machines running smoothly. Our long-term contracts include free Chant DataTEST™ software upgrades.
Give us a call at 215.230.4260 or email service@chantengineering.com to schedule a calibration appointment today!
Request Chant's Calibration Guideline eBook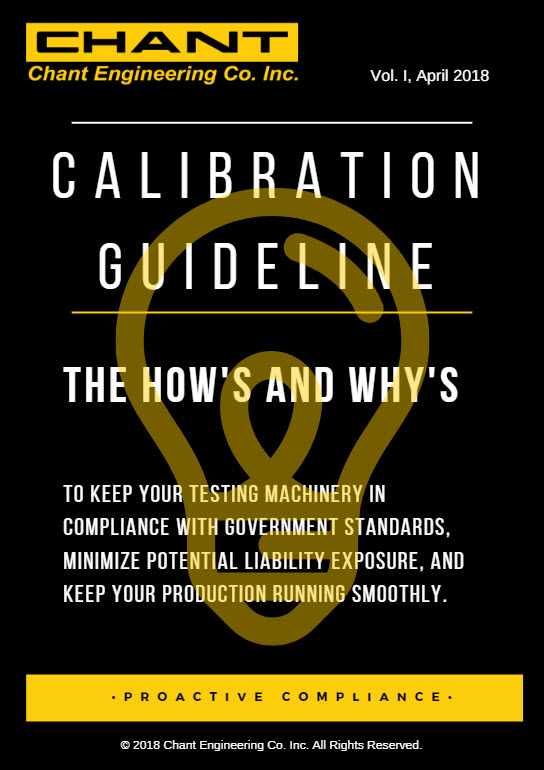 ISO/IEC 17025:2017 Accredited
We are held to high standards
Chant Engineering holds a Certificate of Accreditation, in accordance with the recognized International Standard: ISO/IEC 17025:2017 Accredited, from Perry Johnson Laboratory Accreditation, Inc.
ISO/IEC 17025:2017 Accredited is an International Standard designed for the Accreditation of Testing and Calibration Laboratories. It includes quality management system requirements along with technical requirements to ensure that each laboratory is equipped to perform particular tests and calibration activities.
This accreditation confirms that Chant Engineering Co. Inc. demonstrates technical competence for a defined testing scope and the operation of a laboratory quality management system in respect to Force Calibration.
VIEW PJLA ISO/IEC 17025:2017 Certificate of Accreditation
Chant is Accredited to ISO/IEC 17025:2017 Industry Standards