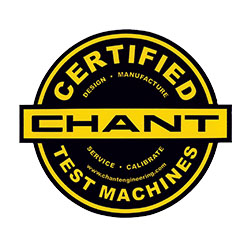 Need to Train Your Staff to Use a New or Existing Machine?

Let a Chant Training Representative help your staff get quickly up-to-speed.
It is critical to have your staff properly trained on how to correctly operate your testing machinery and software.  Operator and machine safety should always be your first priority. Accidents in our industry can often be fatal, but with proper training, completely avoidable. Chant can provide your staff with convenient on-site training to give your operators the ability to smoothly operate your machine in a safe environment and refresh them on any safety or OSHA compliance requirements related to the training.
Need to train your staff how to use a new or existing testing machine? All companies have staff turnover and training a new employee how to properly and safely use your equipment is a must. Training can save you hours of lost production time, labor costs and minimize the chance of an accident. Chant Engineering offers training worldwide both on-site and remotely online.
For our on-site training, our highly-skilled team will plan a site visit at your requested location and quickly and properly train your staff in person. During our on-site training session, we will provide in-depth, hands-on training to show your staff how to safely and efficiently operate your machinery.
We also offer remote training when possible. If your training does not require an on-site technician, one of our experienced team members can remotely dial into your machine and quickly review necessary steps to help train your staff on software settings. We will provide in-depth training to show your staff how to safely and efficiently operate your machinery.
We realize how important it is to get your staff up-to-speed, so you don't lose additional production time. Chant is always by your side to support your team.
Give us a call at 215.230.4260 or email service@chantengineering.com to schedule the type of training you need today.
Our highly-skilled staff can train your existing or new employees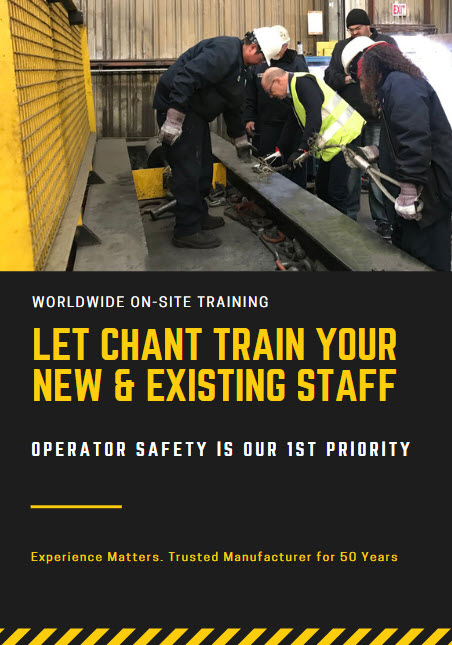 Contact Chant today to book your training session. We have the ability to perform in-the-field training as well as remote training when possible.