Test Stands for Automotive applications
Chant Engineering has had a long history of designing and manufacturing custom test stands for automotive and industrial applications.
Contact us for a quote
held to higher standards

Over 53 Years of Testing Machinery You Can Trust
Chant Engineering is known as a leader in manufacturing heavy-duty testing equipment for automotive and industrial applications. 
Chant Engineering's typical Test Stand capabilities include:
 
Pressure
Flow
RPM
Temperature
Dynamic
Static
Fatigue
Position
Force
Torque

Chant is accredited and certified to the following industry standards:
ISO 9001:2015
AS9100D

ISO/IEC 17025:2017 Accredited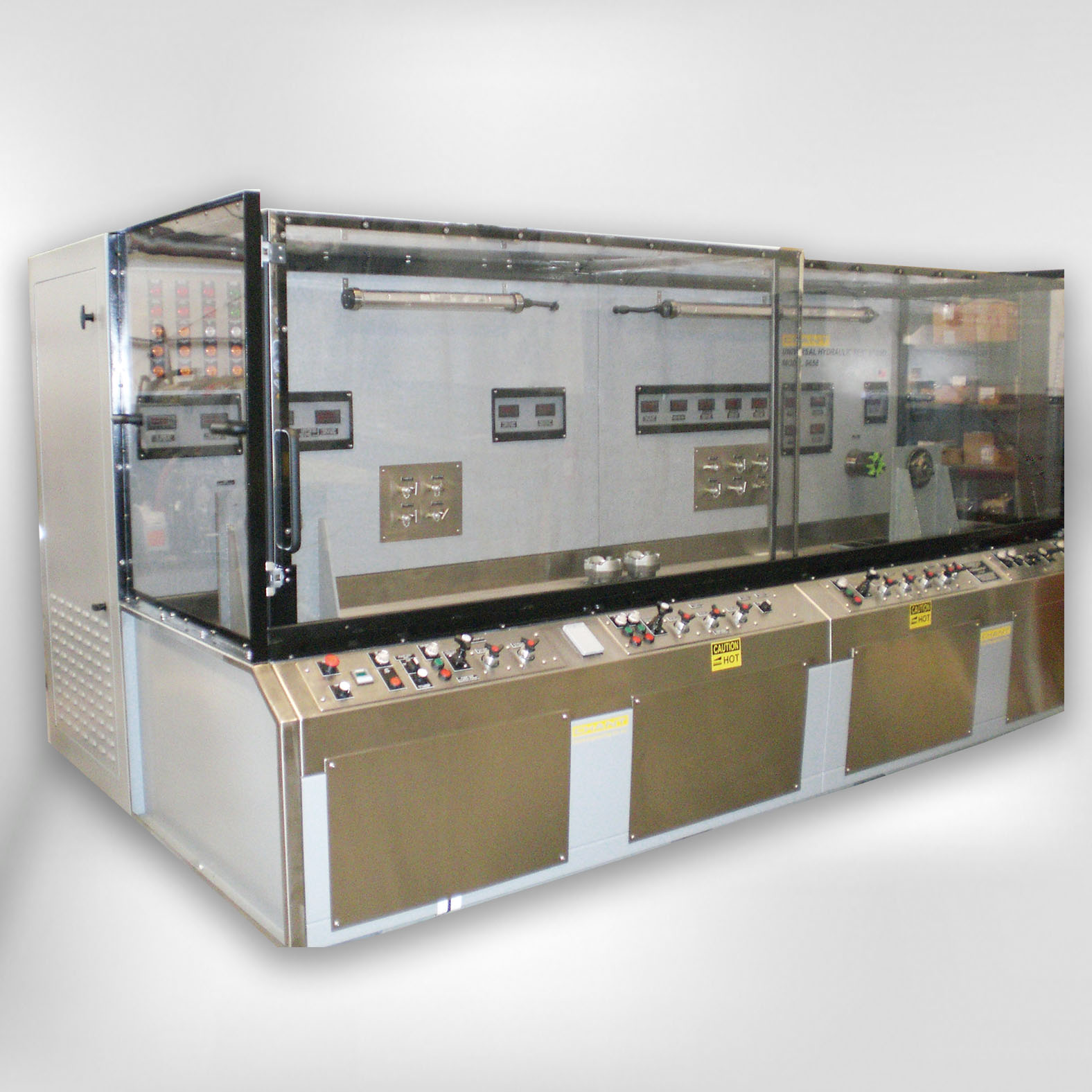 Universal Hydraulic Test STand
Model 965801
Chant's Model 965801 Universal Hydraulic Test Stand is comprised of a test stand console, Hydraulic Power Unit (HPU), chiller unit, dynamometer lubrication unit, motor control center and a remote PLC.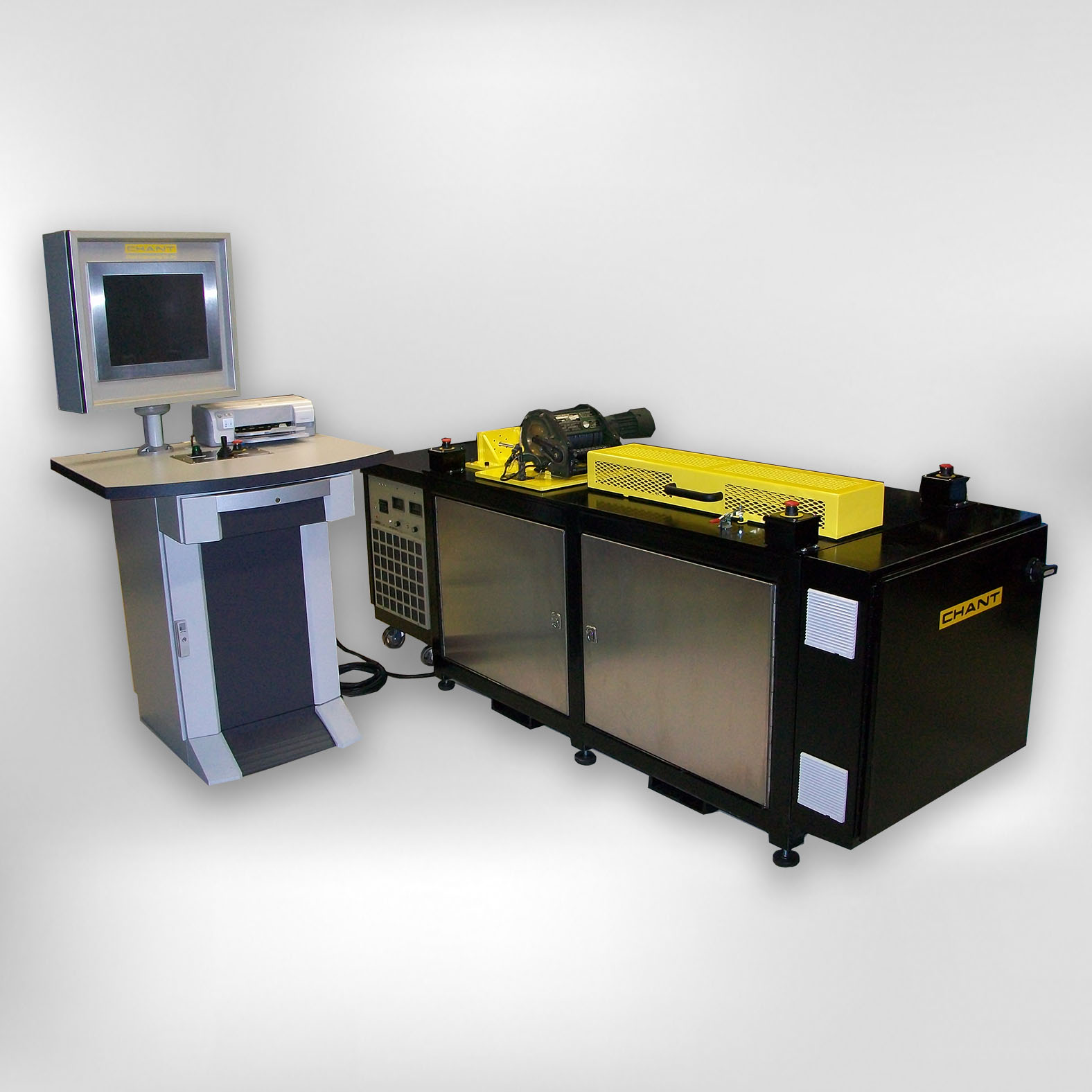 Hoist Test Stand
Model 9857-01
Chant's Model 9857-01 Hoist Test Stand is designed to perform hoist tests, accumulate test data and provide documentation for tracking history of the hoist being tested. The test stand is capable of operating a hoist while applying the required loads to the hoist and varying the input voltage level as specified by the DMWR. The electric DC motor of the MLRS/HIMARS system is used to test both models of the hoist.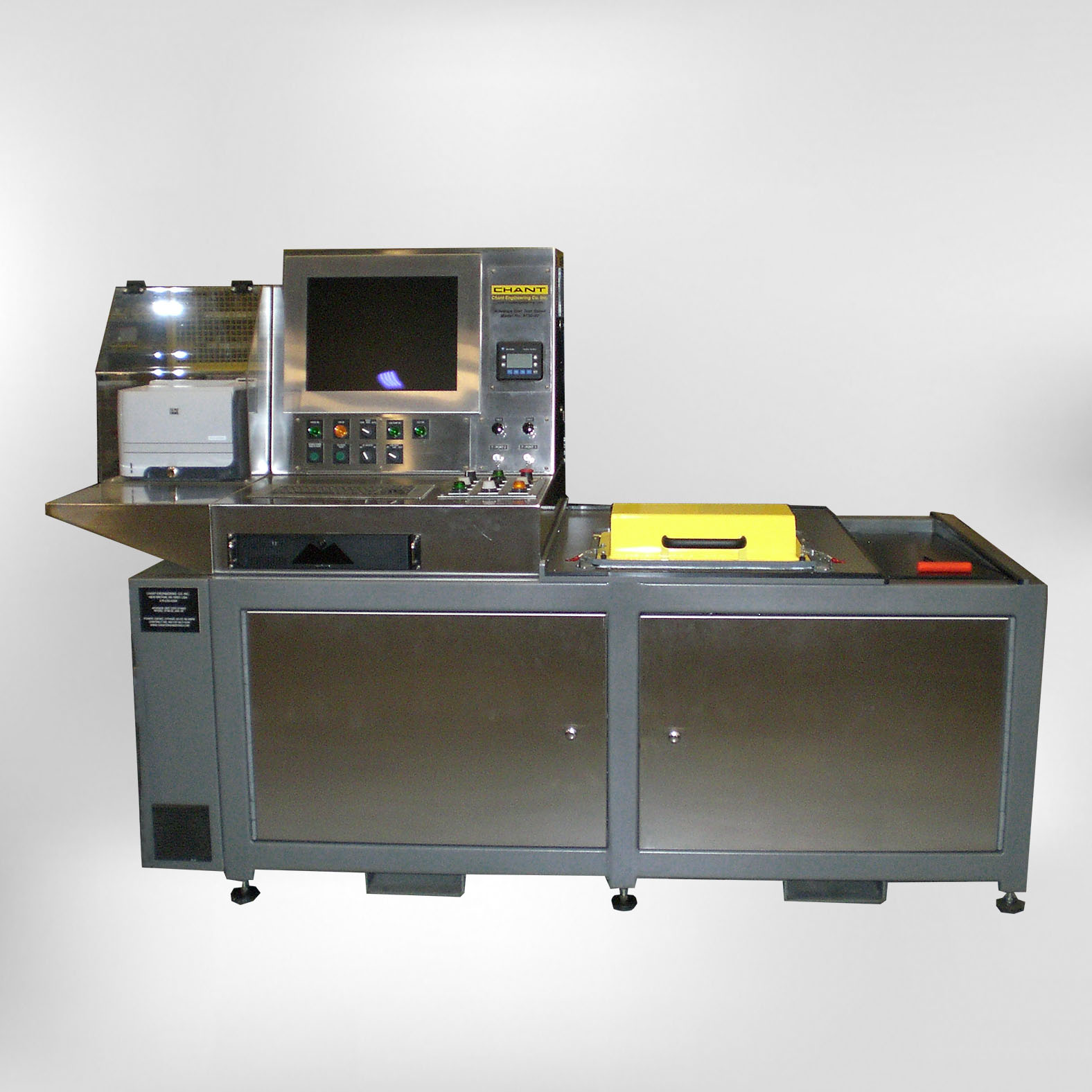 M88A2 Hercules Advance Unit Test Stand
Model 9730-02
Chant's Model 9730-02 Advance Unit Test Stand is designed to test the M88A2 Hercules Armored Recovery Vehicle. It is used to test new and rebuilt advance units for the Hercules and 1790 engines. 
The advance units are part of the fuel injector pump on the engines. This unit is designed to perform continuous production line testing of advance units.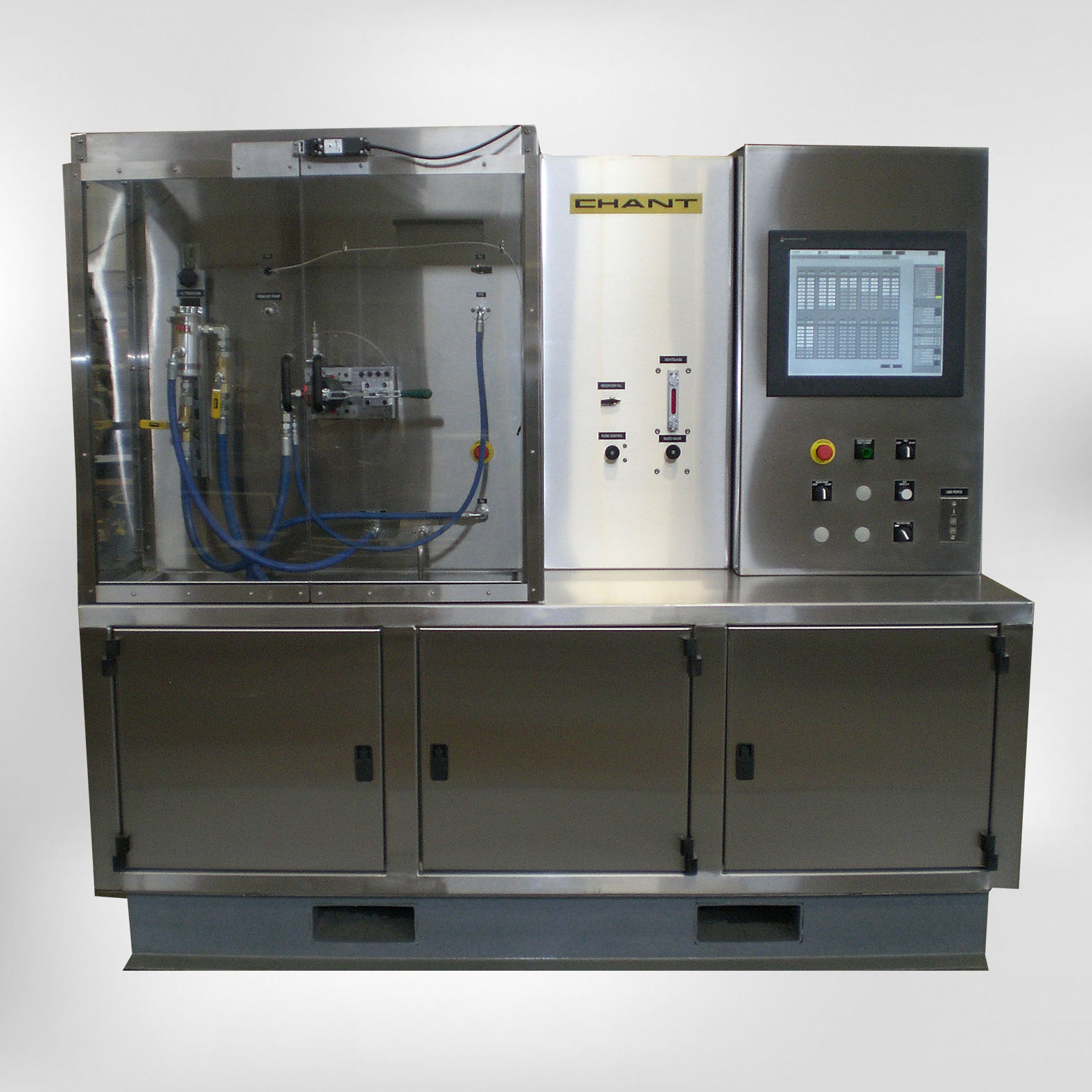 Power Steering Pump Test Stand
Model 10358-01
Chant's Model 10358-01 Power Steering Pump Test Stand is designed to perform test a single power steering pump at any given time, with the capacity to accommodate different pump styles by the means of interchangeable fixture plate arrangement. 
Features a touch screen operator controls that displays, RPM, Oil Temperature (OF), and Flow (GPM), Pressure (PSI), Torque (IN-LBS) and other parameters.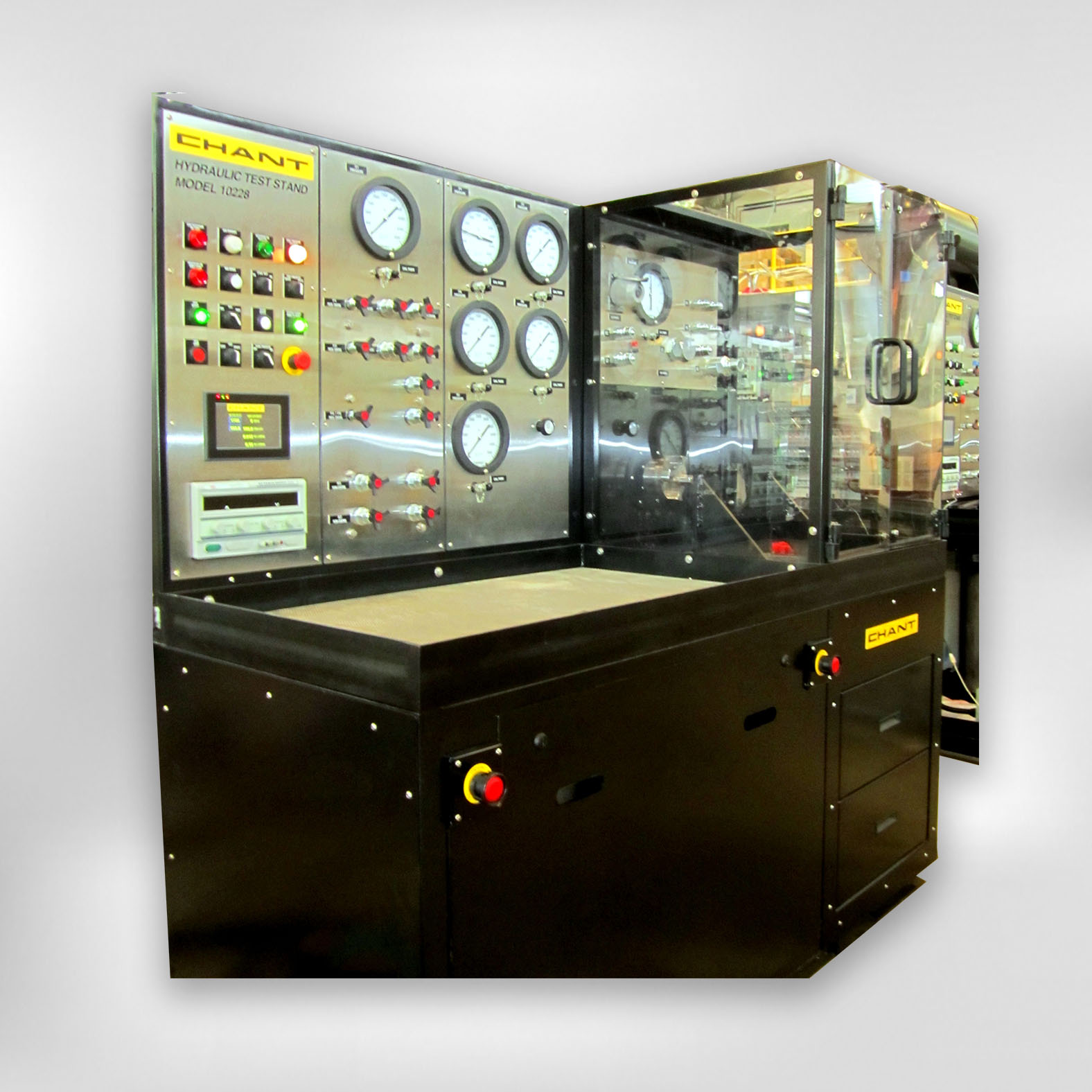 UNIVERSAL HYDRAULIC Test Stand
Model 10228
Chant's Model 10228 Universal Hydraulic Test Stand is used to bench test, repair and troubleshoot all LAV family of  vehicles, such as: MK-48, MK-17, AAV and the M-88 Hercules hydraulic components.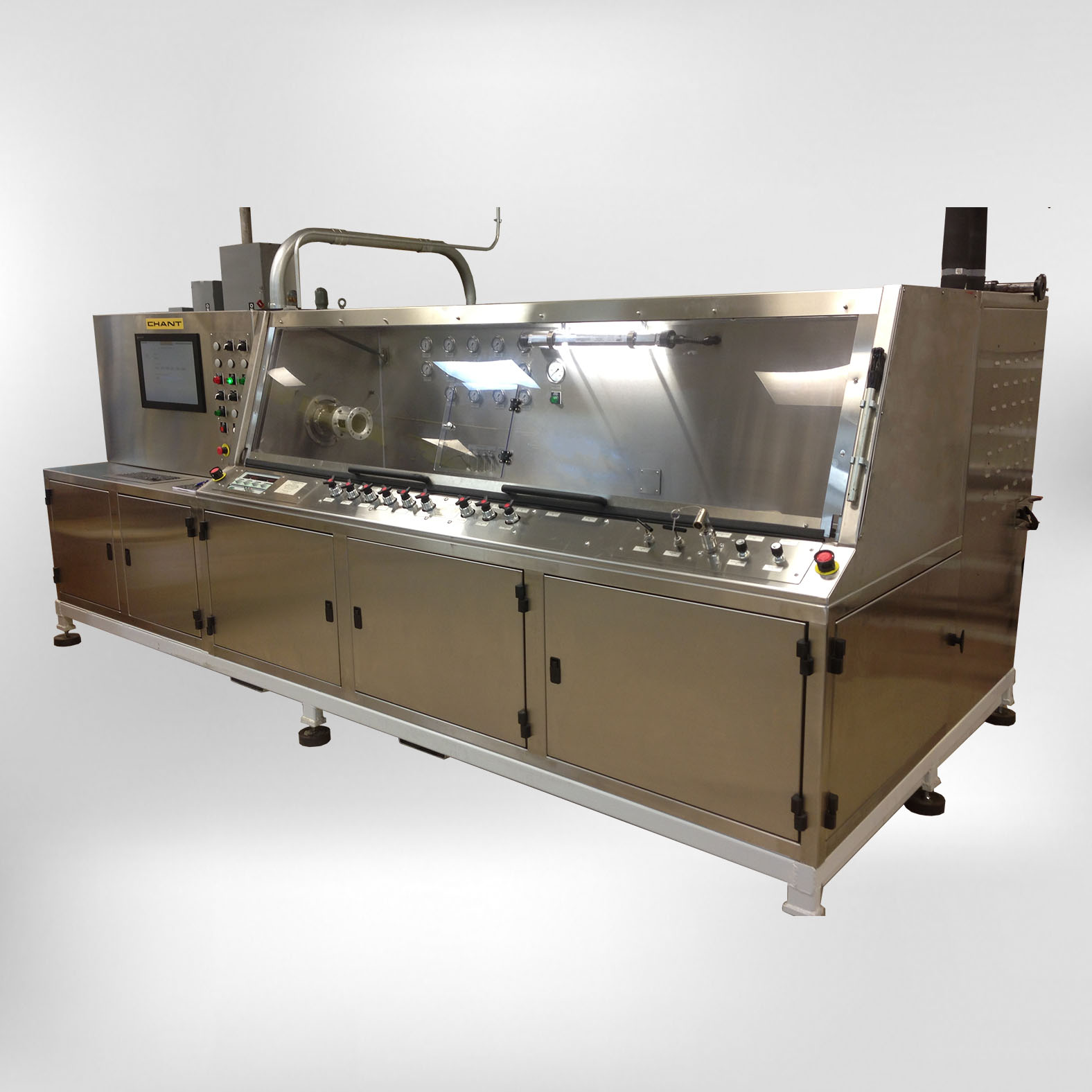 UNIVERSAL Operation & Maintenance (O&M) HYDRAULIC Test Stand
Model 10947-01
Chant's Model 10947-01 Universal Operation (O&M) and Maintenance Hydraulic Test Stand is used to bench test, repair and troubleshoot all family M109 Paladin hydraulic components as well as other hydraulic components. It will test any component that can use the same hydraulic fluid and has requirements that are within the capabilities of the test stand.
Tire TEsting Machine
Model 8277
Chant Model 8277 Tire Testing Machine is a dual station fatigue rated testing machine for long term tire testing. Two tires can be tested simultaneously with this machine. The operator can control the speed, force, slip, and camber and tire pressure either manually or automatically.
The Model 8277 Tire Test Machine consists of two independent, servo hydraulic tire stations sharing a common road wheel. Control of the machine is via a high-speed computer system with full testing control and complete data acquisition. All test parameters including tire temperature are continuously monitored and stored. The operator can program set testing recipes for long term testing to failure.
.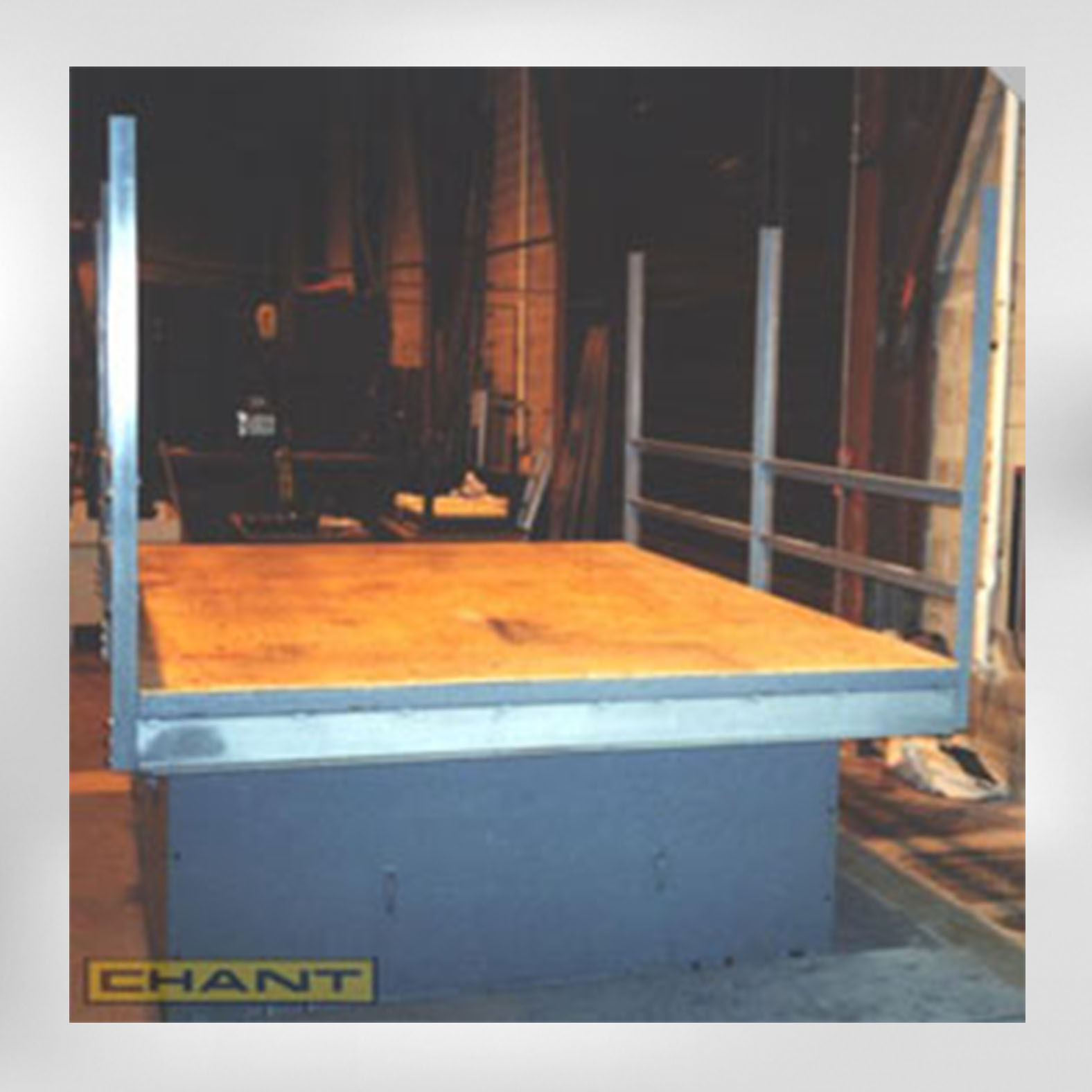 Transportation Simulator - Shaker Table
Model 8760
Chant Engineering Model 8760 is a mechanical shaker used to perform repetitive shock and vibration testing in accordance with FED-STD-101, Method 5019, for loads up to 12,000 lbs. These shaker tables are available in many sizes and capacities.
The Transportation Simulator has a horizontal table surface mounted above a motorized driving mechanism. The table is restrained so that it can only move vertically. It is driven from below by a crank mechanism driven through gearing by an electric motor. The crank drive arrangement produces vertical motion which is of fixed amplitude and approximately sinusoidal. The speed of the motor is variable to allow the frequency of the table motion to be adjusted.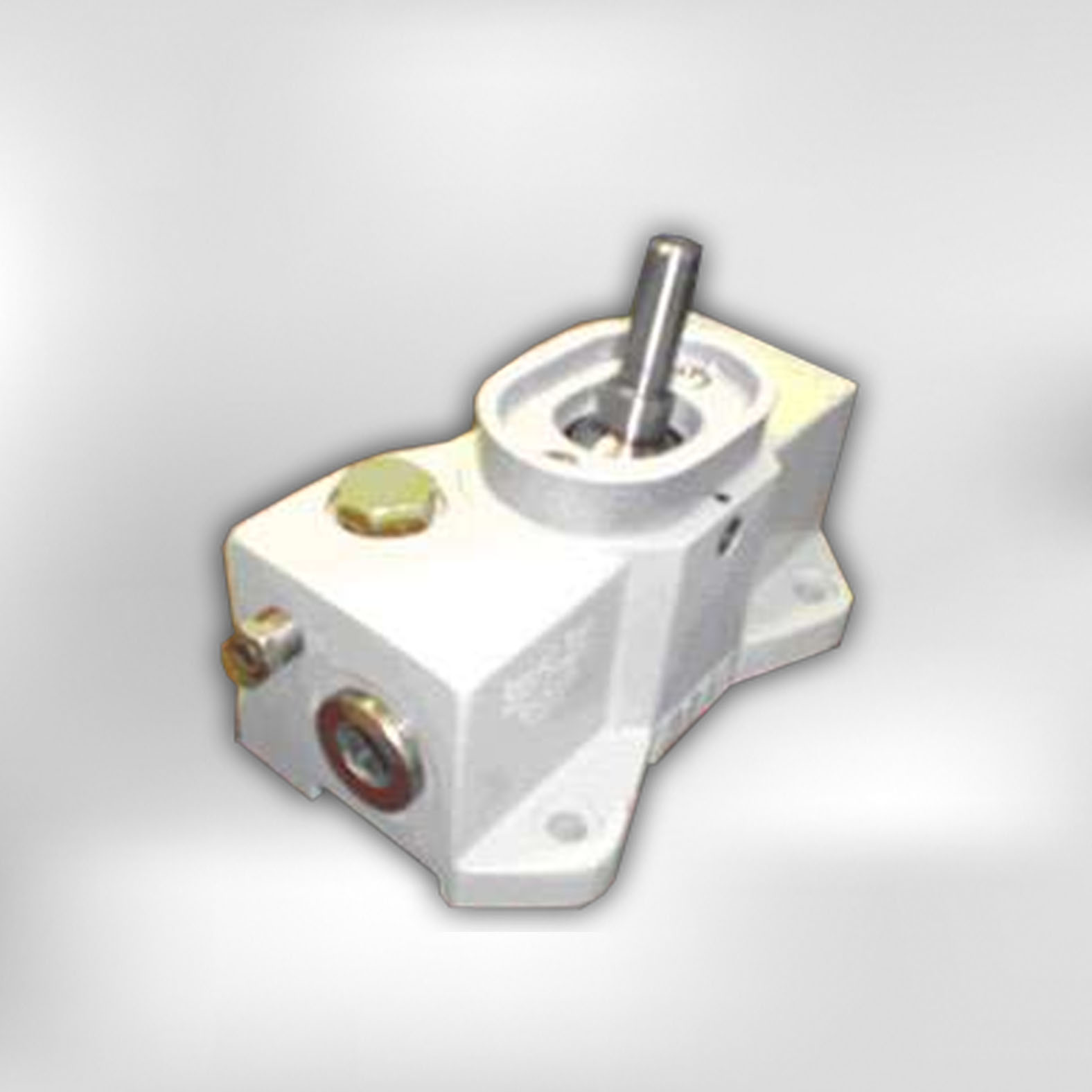 Bradley Fighting Vehicle Hydraulic Pump
NSN 4320-01-432-6208 – P/N 12395352
The Chant Model 12395352 Bradley Fighting Vehicle Hydraulic Pump is an emergency engine hatch hand pump used on the Bradley Fighting Vehicle.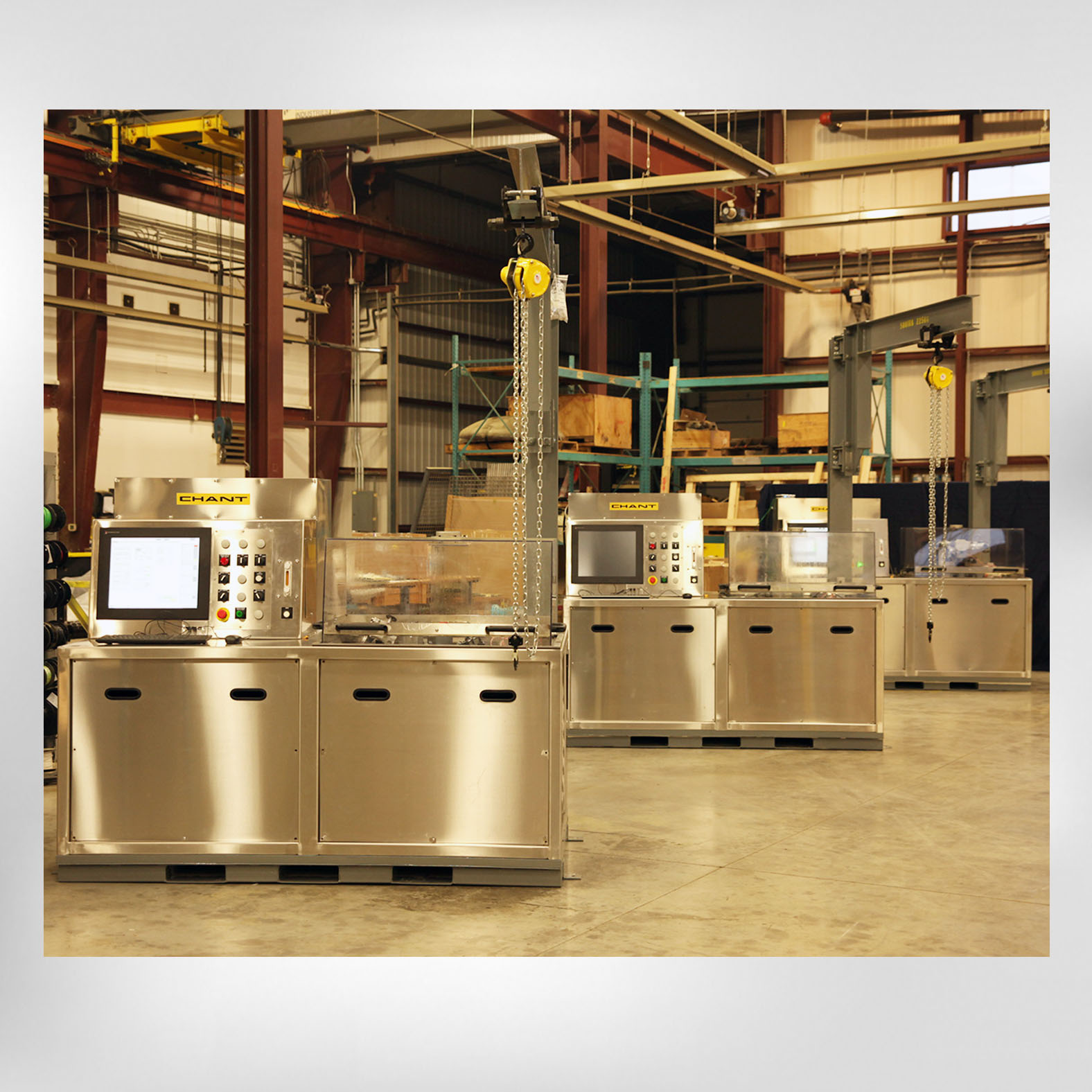 Hydraulic Test STands
Model 11293
Chant Engineering Model 11293 consists of 3 separate units that include a stainless steel cabinet/frame assembly to hold the necessary valves, pumps, and other components required for the test system.  Stainless steel is used both for appearance and durability.  The cabinet provides a test station for mounting the pumps that will be tested.  A drip pan with collection tank below will collect any spilled fluid.  The footprint of the test stand will be no greater than 4ft x 7ft.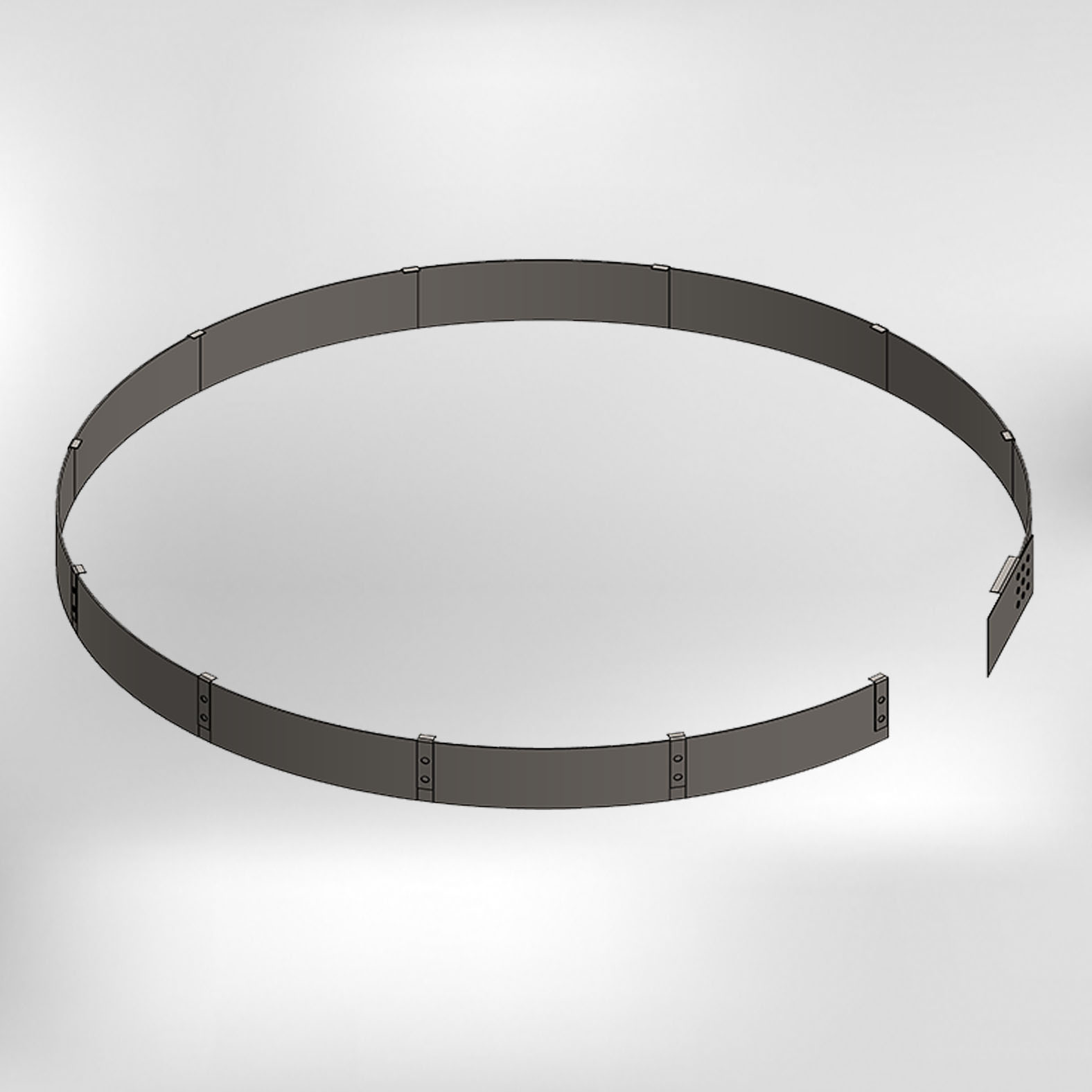 M1A1 Engine Retaining Band
NSN 5340-01-383-2052 – P/N D3-500-770-09
The Chant Engineering Engine Retaining Band is used on the engine of the US Military's M1A1 main battle tank.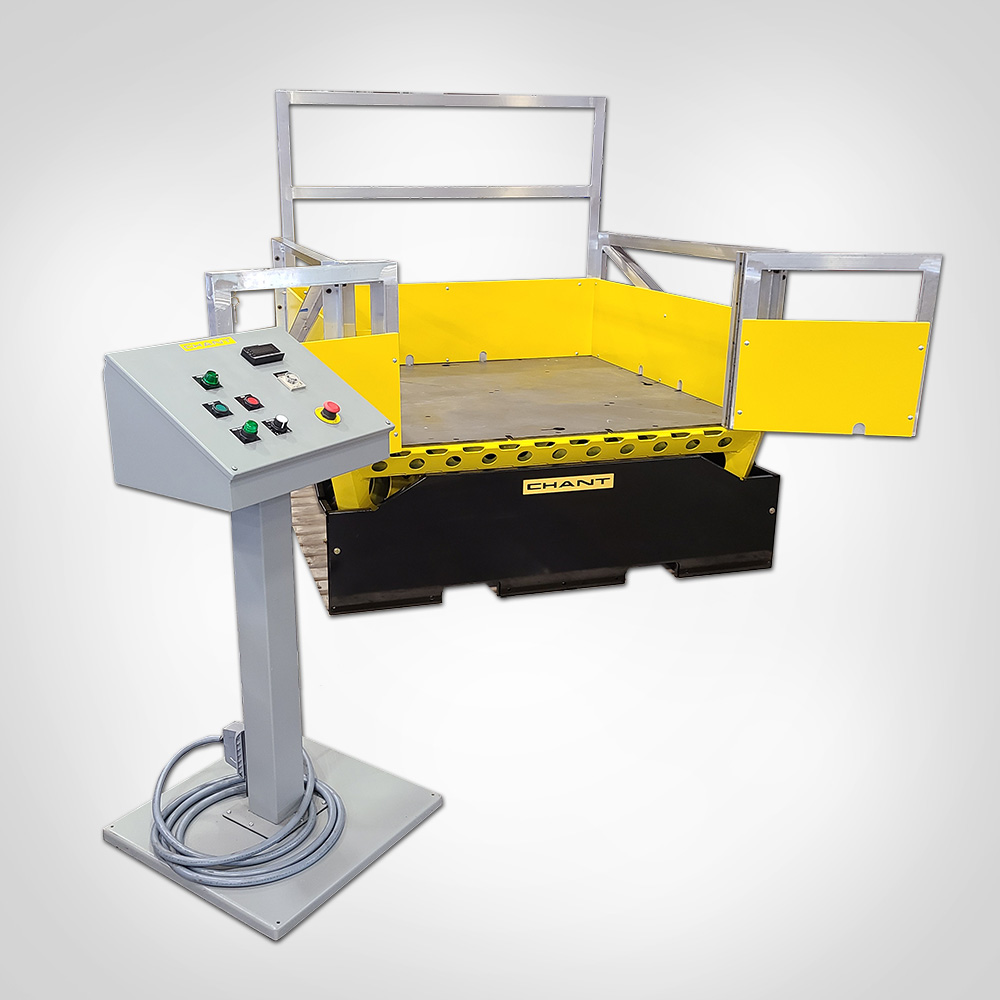 Transportation simluator - shaker table
Model 32224
Chant Engineering Co.'s line of Transportation Simulators for payload testing come in various sizes and simulate the vibrations and shaking of cargo, as it is transported. The maximum payload capacity of this Transportation Simulator is 2000 lbs. The Synchronous motion continuously has an adjustable speed range of 150 to 300 rpm. It comes with complete data acquisition that can be connected to any PC for download and permanent saving of test records.