It is with great excitement that Chant Engineering Co. Inc. unveils its new corporate website. Chant is a leading manufacturer of testing machinery, reeling machines, test stands and other related rigging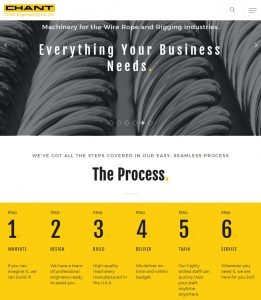 shop accessories. "We are excited to offer a fresh new look with easy-to-use navigation to help our customers quickly find the information they need", said Patrick Shire, Vice President of Sales and Marketing at Chant.
Chant's tagline, "If You Can Imagine It…We Can Build It", embodies what sets Chant apart. "Our tagline reflects our passion as a leading industry innovator who solves complex problems and provides custom solutions for our customers," remarked Phil Chant, President of Chant Engineering. "Through innovation and collaboration, we have become the "go-to" trusted advisor in the testing industry. We wanted our new website to reflect that and reinvigorate the classic Chant Engineering brand that our customers know and trust," continued Chant.
Chant products are made in the U.S.A. out of its headquarters located in New Britain, Pennsylvania.
To view Chant's new website or for more information about Chant Engineering, please visit www.chantengineering.com.
###
Founded in 1970, Chant Engineering Co. Inc. is a global engineering and manufacturing firm who specializes in building high-quality testing machinery, reeling machines, test stands and related rigging shop accessories. Chant serves customers worldwide in both the industrial and military markets. Chant is a family-owned; USA based manufacturing business located in New Britain, Pennsylvania. Chant manufactures or distributes and services every type of machine used in rigging shops and more.
Chant is also the Authorized North American Distributor for TALURIT AB Sweden products, Dynamic Load Monitoring (DLM) and Friedrich Höppe GmbH.
As a nationally recognized ISO/IEC 17025:2005 calibration facility, Chant has precision calibration equipment traceable back to the National Institute of Standards and Technology (NIST). Chant is capable of calibrating testing machines up to 3.3 million lbs. with load cells that have the capacity to calibrate to 1.5 million lbs. in tension and 3.3 million in compression.
For more information on Chant Engineering, visit www.chantengineering.com.