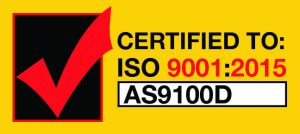 Chant Engineering Company Inc. and Hull Industries, a division of Chant Engineering, is proud to announce it has received its AS9100 Rev. C and ISO 9001:2008 certification.
AS9100 is the international quality management system standard for the Aircraft, Space and Defense industry and AS9100C is the most current standard. The standard provides suppliers with a comprehensive quality system for providing safe and reliable products. AS9100 is managed by the International Aerospace Quality Group (IAQG) and is based upon ISO 9001.
The Quality Management System for the Aerospace Industry (AS9100) is designed to meet the strict and unique demands of the defense and commercial Aerospace industry. Being certified by an accredited AS9100 and ISO 9001 registrar provides evidence of a comprehensive Quality Management System focused on areas directly impacting product conformity, safety, and reliability.
The registration was granted by American Systems Registrar an ANAB Accredited and IATF approved organization.
Click the links below to view our current ISO Certificates:
CLICK HERE to download our AS9100D Certificate
CLICK HERE to download our ISO 9001:2015 Certificate