Chant Engineering's business partner, Dynamic Load Monitoring (DLM) gives a warm welcome this month to two new distributors, Gammatec in Nigeria and Technik-1 Lifting in U.A.E . Both distributors provide a wealth of knowledge from various offshore, lifting and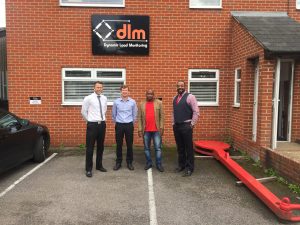 rigging backgrounds and will complement the existing distributor network. DLM now have a total of eight distributors globally, who all receive full training on DLM products, with the ability to calibrate and service load cells locally. Gammatec  Nigeria and Technik-1 lifting are on hand to offer technical advice and have a great customer service track record.
DLM loads up with more distributors
Gammatec Nigeria
Gammatec Nigeria manufactures and markets all types of non-destructive testing equipment and accessories. They first meet DLM at an exhibition they attended last year. As the business relationship flourished, DLM went on to design and manufacture a unique 50t steel tension and compression test machine.  The test machine, which is operated by a hydraulic hand pump and valve set, allows the load to be securely held at certain points for accurate calibration, will now enable them to calibrate load cells ranging from 5t – 50t locally.
Stanley Asiegbu from Gammatec  Nigeria , comments ' When we first met DLM we had a good feeling about them, they were very professional and had some excellent products on hand to demonstrate. We now have our test machine up and running and are really pleased with it. The test machine is a really exciting additional to our product range and means we can now calibrate DLM Load cells here on site, efficiently servicing the African market. We have already had lots of inquires for not only DLM standard products but also custom built solutions, so we are looking forward to a successful working relationship with DLM.'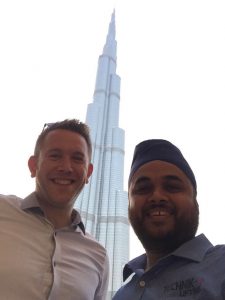 Technik-1 Lifting
Technik-1 Lifting, work across the crane load instrumentation segment of the crane industry and have an in-depth knowledge of this field. Established in 2010 Technik-1 also offers an unrivaled commissioning, calibration and repair services for load monitoring systems for offshore, onshore & industrial cranes. Technik-1 Lifting has been working closely with DLM in recent months on various bespoke projects involving DLM specialise load pins and system designs to mention a few.
Jee Singh from Technik-1 comments "Technik-1 are a young ambitious company focused on customer service and providing first class technical solutions, we have been in communication with DLM for a while now and are starting to work together on some exciting system projects. There is a real synergy between the two companies with both of our business strategies being aligned in the same direction and very soon with the support of DLM we will be offering a local load cell and service centre in Dubai."
Martin Halford, Managing Director comments ' As we expand our product range we are continually getting more and more inquiries from companies overseas so its paramount that we have distributors that not only know our product range and receive full training, but also that they have the ability to calibrate load cells within their local area. We welcome both companies on-board and look forward to working closely with them in the future.'
###
Chant Engineering is the Exclusive North American Distributor for DLM products. We stock many items in-house for a quick ship.
For more information about DLM or their products, visit: dlm-uk.com