Chant is an eleven time recipient of the AWRF Platinum Safety Award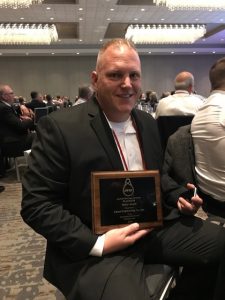 Chant Engineering Co. Inc. was presented the Associated Wire Rope Fabricator's (AWRF) Platinum Safety Award for its outstanding safety record during the year 2016 at the recent 2017 AWRF General Meeting and P.I.E. held in Minneapolis, MN. There are 4 levels to this award, Standard, Silver, Gold and Platinum. The AWRF Platinum Safety Award is given out to companies with a no accident safety record for seven consecutive years. Chant was one of nine companies who received the Platinum level award for 2016. Chant is an eleven time award winner and is pleased to have received AWRF's safety award since 2006.
Chant Engineering is extremely thankful that our manufacturing team members put safety first.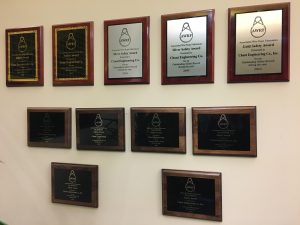 "We accept this safety award with great pride, as it comes from a leading organization that represents the wire rope industry. We always strive to provide our employees a safe work environment and customer's products that are safe to operate. We manufacture Chant products to an extremely high level of quality for superior performance. This AWRF Safety Award recognition totally reinforces our commitment to not only safety, but also excellence," said Phil Chant, Chant's President.
###
Photo 1:  Jason Ruby, Spare Parts Manager for Chant Engineering, pictured with the 2016 AWRF Platinum Safety Award.
Photo 2:  Chant's Safety Awards from AWRF over the years.
Chant Receives 2016 AWRF Platinum Safety Award 103117
###
About Chant Engineering Co. Inc.
Chant Engineering Co. Inc. is a global engineering and manufacturing firm located in New Britain, Pennsylvania, USA. Chant specializes in building high-quality testing machinery, reeling machines, test stands and related rigging shop accessories. Chant is a family-owned and operated USA based manufacturing company who manufactures or distributes and services every type of machine used in rigging shops and more. Chant's products are used across the globe in the following industries: construction, aerospace, rigging, oil and gas, entertainment, military and industrial markets.
About Associated Wire Rope Fabricators (AWRF)
AWRF promotes interests common among companies manufacturing, fabricating, or distributing lifting, rigging and load securement devices made of chain, rope, and synthetic products. The association works to establish, acquire, preserve, and disseminate various technical information, and encourages the development of safety standards and programs, and product identification procedures.