Chant Engineering Co. Inc. is excited to welcome Nathan Collette. Nathan will lead Chant Engineering's Military sales efforts. Nathan brings twenty+ years of military experience serving in the United States  Navy as an Aviation Rescue Swimmer.  Nathan lives in Reno, NV with his children and will be based in his home location. As a California native, Nathan is a big fan of the San Diego Chargers and enjoys spending time outdoors cycling and kayaking. He also enjoys spending time with his family in his spare time.
"We are excited to have Nathan join Chant's team. His military background and expertise will help us navigate and grow our military sales program worldwide." said Phil Chant, President of Chant Engineering.
"We are confident Nathan will be a tremendous asset for Chant and he is excited to get started helping our military customers with all of their equipment needs.  We see Nathan as an integral player to help us streamline our proposal re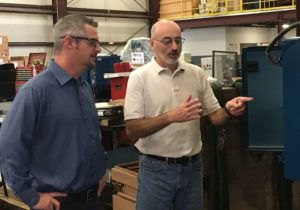 sponse processes, enhance customer relationships, and position Chant as a "go-to" vendor for the military." We welcome Nathan and his years of experience to the Chant team." said Chant.
###
Founded in 1970, Chant Engineering Co. Inc. is a global engineering company that designs, manufactures, and services testing machines for the industrial, military and aerospace industries.
Chant Engineering has designed equipment for the Bradley Fighting Vehicle, V22 Osprey, M777A, B1-B, A2 Howitzer, M882A and the F15, F16, F18 among others. In addition to the US military, we have also worked internationally with US Allies, ROKAF, Israeli and Taiwanese militaries on test stands and machinery needs. All Chant products are made in the U.S.A., in New Britain, Pennsylvania.
Chant Engineering is a nationally recognized ISO/IEC 17025:2017 Accredited calibration company with precision calibration equipment traceable back to the National Institute of Standards and Technology (NIST).
For more information on Chant Engineering, visit www.chantengineering.com