DLM Custom Designs Product for Climbing Industry
A large outdoor climbing company based in the north of England approached DLM wanting a custom designed product for mountain rescue operations.
The Quad Pod which was delivered to the firm earlier this month consisted of an aluminum metal frame with four legs in the shape of a pyramid with ropes secured around the base to restrict movement and secured to the frame. The brief behind DLM Designs latest innovation was to design and build a product that could be transported easily up a mountain and assembled quickly in an emergency.
The Quad Pods stainless steel frame has been designed to open and assemble on the mountain side, with a load cell attached beneath the top of the pyramid which can hold up to 800 kilos. A lever hoist is then to be fixed underneath the load cell for lowering people down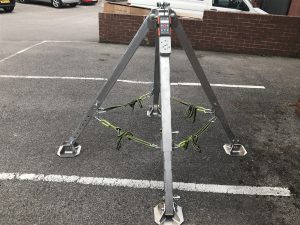 in order to aid recovery. The shackle load cell attached to the quad pod measures the tension being placed on the load cell, this measurement is then wirelessly transmitted to a DLM display which can be placed up to 200m away.
Tony O'Brien, Mechanical Design Engineer comments 'We have worked with this particular company before to custom design and build a test frame for their training courses, so it is great to see they have come back to us with a brand new project for us to get our teeth stuck into. We can't wait for the next one!'
This is another example of DLM Designs capabilities. With over 40 years combined experience in not only load cells but also load monitoring and electronic systems. DLM Design engineers are able to carry out complete bespoke designs from conception through to completion.
Chant is the exclusive North American Distributor of DLM products. Contact Chant for more information at 215.230.4260 or email sales@chantengineering.com.