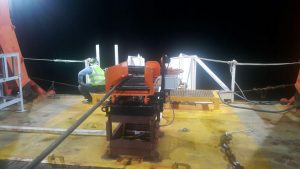 A South Korean Cable Laying company visited Dynamic Load Monitoring's (DLM) Head Office in Southampton last month for product training on DLM's unique cable working equipment soon to be used on an up and coming PLGR (Pre Lay Grapnel Run) project.
PLGR is an operation undertaken prior to laying cable and is used to clear the route, by the use of various Grapnels (also supplied by DLM) being deployed along the seabed trailing behind a vessel.
The Saddleback Monitor, designed and manufactured by DLM, is used to measure line tension on Winch rope during PLGR operations and can also be used for delicate fibre optic cable during laying.
The South Korean company flew over to receive training on the saddleback monitor last month, where DLM's technical engineers were able to give demonstrations of the products functionality, calibration and maintenance procedures. The Saddleback is due to be used in up and coming operations in the Philippines and the Pacific Ocean, along with other projects going forward.
To read the full DLM article CLICK HERE.
Chant Engineering is the Exclusive North American Distributor for DLM Products.
___
Dynamic Load Monitoring (DLM), located in the United Kingdom, specializes in the design, manufacture, repair and calibration of load cells and load monitoring equipment.
Successfully supplying load cells and equipment for more than 20 years DLM have proved to be industry leaders in finding a solution to your load monitoring requirements. Internationally known for an unprecedented high quality, reliable standard product range, DLM are also the world leaders in the design and manufacture of Shear pin Loadcells to the Offshore and Subsea industry.